Thursday and Friday was all about the rain, and more rain. With thunder and lightning in the area, I left the computer unplugged for much of the time. But there's always something on my To-Do List to work on, whether it's raining or not.
To-Do List
Make garden markers from the native clay I cleaned last year
Take a little video of the flooded bridge to post to YouTube
Get my painting ready to ship to New York City!
Oil out the flat spots in the raven painting
Outline my demonstration timeline for MSW
And then there's the ever-present list of household and garden chores always waiting on the to-do list too. Tomorrow I'll be working at my studio space in Alpena at the Alpena Mercantile. That's a whole separate To-Do List right there.
Garden Markers
I've been wanting to make some of these for a long time. Since I learned how to clean the native clay and found that it actually works and fires well in my little jewelry kiln, it's all I use for my sculpting needs anymore. So I made a set of six clay Garden Markers, and if they dry without cracking and then fire without exploding, I'll make more of them.
I'm almost able to mark this one item off of my to-do list. Once they dry a bit, I'll clean up the burs and let them finish drying completely. Then I'll see how they do in the kiln. If they survive to that point, then I'll see if the grandkids want to paint them, or I'll paint them myself with some colorful acrylic paints. For this project, I am not trying to stick with my Ozark colors, because I just don't think it's the best option for the job. But one day I will paint some of my clay work with the Ozark colors and see how that turns out.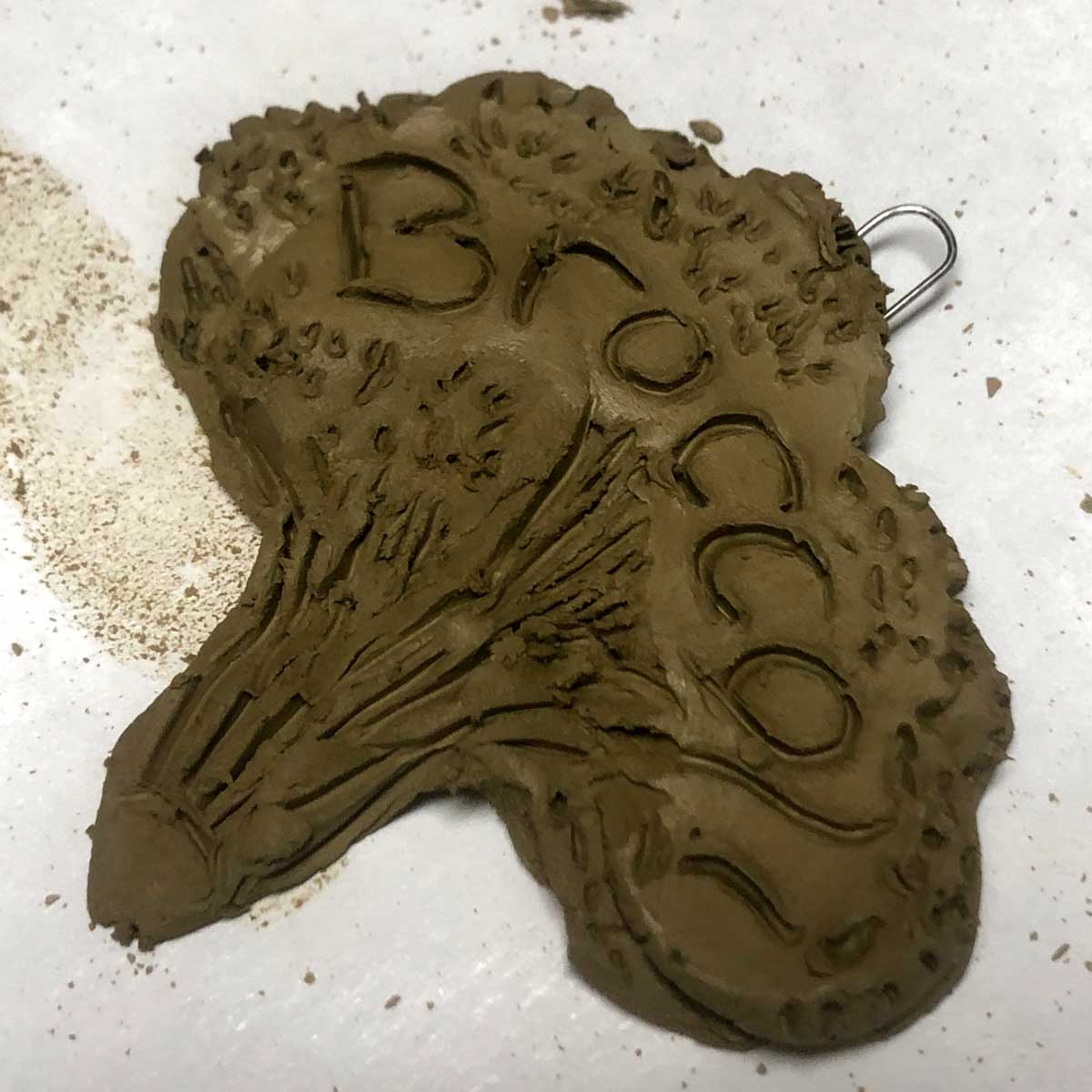 Garden marker hopefuls. Still need to dry, get cleaned up, and fire. Then paint…. Until I listed all that out, I felt like I was almost ready to mark these off the to-do list. I think I'll hold off on that a while.
To-Do List Item: Felkins Bridge Video
It takes a long time to make a decent video edit, so I've just been doing little shorts. Some of them get a lot of views and comments, and some of them never gain any eyeballs. But here's this one if you'd like to see a glimpse of what it looks like at our nearest bridge after a day or two of rain.
Get Destination Unknown ready to ship!
I'm so excited to send this painting off to Governors Island this week. Even more exciting? The exhibitor is going to reimburse the shipping cost! And if I were in a position to go and stay for a week during the exhibition, there are residencies on the island at the Swale House (Swale Lab + Urban Soils). I can't think of a more appropriate space to do a residency, but the air fare and room rental to even get to NYC is far over my budget. This is the second time he's going to NYC without me. The first time, he hung on the walls at the Salmagundi Club on 5th Ave. for the Audubon Artist's exhibition.
I haven't done this task yet, so it's not marked off of the to-do list. Now that the rain has stopped, I can get the Air Float box out of the connex. Before I can print the labels to and from, I have to get it packed and weighed. So this item will be a few more days before it can be checked off.
Oil Out Flat Spots
This is a reoccurring item on the to-do list until it lets me know it's done. Different pigments take up different amounts of the oil in my oil paints. So sometimes, one of the colors will become flat rather than hold the sheen of an oil paint when it's dry. In order for the surface of the whole painting to be a uniform level of sheen, I'll apply a thin layer of the walnut oil I use for thinning my paints to the flat spots. Sometimes the grounds soak up the oil, too. For this one I used three coats of white gesso, but I think it's an issue with the pigment more than the grounds. The only parts with flat spots are the parts painted with the soot pigment. So, I'll just keep adding the oil and letting it dry between layers until everything has a uniform look.
It may take a while to reach the goal on this one, but it doesn't have to be delivered to the exhibit until end of June, so I am still on schedule with it, at least.
Demonstration Outline
Next month I'll be doing a demonstration on making paint from rocks for the Mid-Southern Watercolorists in N. Little Rock. This is open to the public, if you'd like to attend. So the to-do list item this week was to draw up a schedule or an outline of my demonstration. I'm almost ready to check this one off of the list.
What's on your To-Do List?
Whether you're an artist or not, it always interests me what everyone else is working towards. What's on your to-do list for this week?
.
Author/Artist Info
________________________________
Madison Woods is a self-taught artist who moved to the Ozarks from south Louisiana in 2005. In 2018 she began experimenting with watercolor painting, using her local pigments. She calls them Paleo Paints. In 2023 she began her journey into the world of oil painting with those same pigments. Her paintings of the Ozark-inspired scenes feature exclusively the lightfast pigments foraged from Madison county, Arkansas. Her inspiration is nature – the beauty, and the inherent cycle of life and death, destruction and regeneration. Wild Ozark is also the only licensed ginseng nursery in Arkansas. Here's the link for more information on the nursery end of life out here.

Online Portfolio

Click here to join her mailing list.
First and foremost, apart from being an artist and author, Madison is a nature enthusiast. She enjoys using local resources in every aspect of her life and considers the land she and her husband live on as partners in life. They care for the land and the land cares for them. She's an herbalist, gardener, and wildcrafter of medicinal plants.
LIKE & SUBSCRIBE ON YOUTUBE
https://www.youtube.com/@wildozark
Reviews are a great way to support your favorite artists and small business owners.

If you would like to help me get more easily found by others, leave me a Google review by clicking HERE. It does require you to have a Gmail address, but if you can do this, it would help me out tremendously.

Thank you so much!