I'm pretty excited to announce that 'Destination Unknown' was accepted to the the 2020 Audubon Artists Exhibit. UPDATE 11/6/20: I'm even more excited to say that my painting won the Silver Medal and a cash award of $300 for the Aquamedia division!!
As with most other art events, this one has moved online for this year. You can view all of the entries, along with mine on this page: https://audubonartists.org/audubon-artists-78th-annual-exhibition/
2020 Annual Audubon Artists Exhibit
The exhibit will run from Nov. 1 to Dec. 31, 2020. The paintings in the exhibit are for sale. For a nature and wildlife artist, this is an exciting accomplishment. I'm honored to be included and am looking forward to seeing what everyone else has created.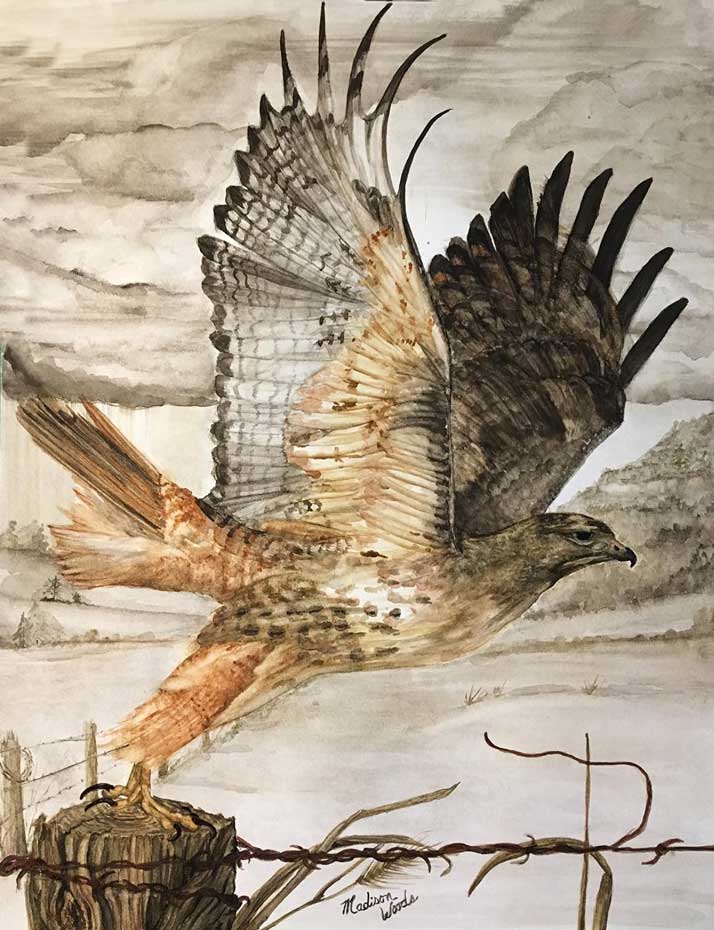 About the Painting
Red-tailed hawks are one of our most common birds of prey here in the Ozarks, and in the United States. This one is lifting off from a weathered fence post wrapped in rusted barbed wire. The idea of spontaneous travel with no agenda is something I love, and therefore was inspired to name it "Destination Unknown". You can see the progress pics from this painting on this page. And this page is the listing at my website. Prints are also available.

.
Author/Artist Info
________________________________
In the summer of 2018 I began making watercolor paints from the rocks, clay, and other resources of our land here in the Ozarks. My artwork is made exclusively with these paints. I call them Wild Ozark Paleo Paints, because they're made in a way very close to the same way paints were made when man first put a handprint on the wall of a cave. My specialty is painting nature, specifically the nature that surrounds me here in the remote hills of northwest Arkansas.

My Portfolio is at MadisonWoods.art

Click here to join my mailing list.