I'm super excited to announce that Petunia was chosen for the 2021 Bosque Art Classic. A heartfelt thanks to juror Tyler Crow, the youngest artists ever inducted to the Cowboy Artists of America. It's an honor to have a painting of mine hanging alongside the many other incredible works that turn up for this show.
Now I'll need to get Petunia framed and ready to ship.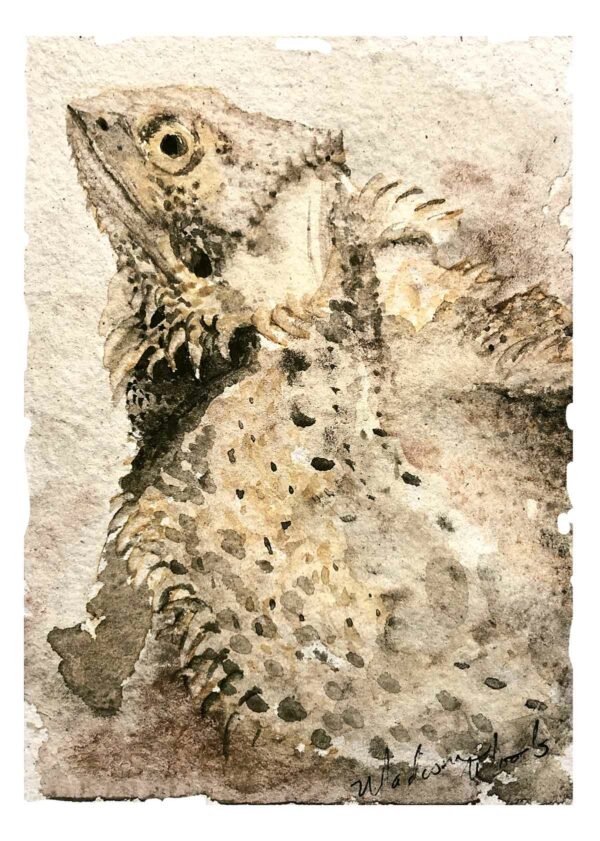 Show Preview Online
You can see all of the show at this page from the Bosque Art Center's website: https://www.bosqueartscenter.org/Gallery.aspx. The categories are on the left hand panel (if you're on a computer). If you're able to go to the physical show, I'd be delighted if you can send me some photos of Petunia hanging on the wall!
Getting to the Bosque Art Classic
The Bosque Art Classic is in Clifton, Texas in Bosque county, an area considered an artist's mecca. I've been wanting to reach more toward western contemporary art because even though my subjects may not be distinctly western, the colors really resonate with the images I think of from out west.
Petunia Process Page
Go to this page if you'd like to see the process of creating Petunia. She's painted entirely in handmade watercolors from our local Ozark pigments, as is all of my art. I'd never painted a reptile before and was curious if it would work. This is a pet my grand-daughter loved, though the model I used for the reference (my own photo) was a different dragon and not the original 'Petunia'. The original Petunia had died and I painted a portrait for Karter in remembrance of her beloved pet.
.
Author/Artist Info
________________________________
Madison Woods is a self-taught artist who moved to the Ozarks from south Louisiana in 2005. In 2018 she began experimenting with watercolor painting, using her local pigments. She calls them Paleo Paints. In 2023 she began her journey into the world of oil painting with those same pigments. Her paintings of the Ozark-inspired scenes feature exclusively the lightfast pigments foraged from Madison county, Arkansas. Her inspiration is nature – the beauty, and the inherent cycle of life and death, destruction and regeneration. Wild Ozark is also the only licensed ginseng nursery in Arkansas. Here's the link for more information on the nursery end of life out here.

Online Portfolio

Click here to join her mailing list.
First and foremost, apart from being an artist and author, Madison is a nature enthusiast. She enjoys using local resources in every aspect of her life and considers the land she and her husband live on as partners in life. They care for the land and the land cares for them. She's an herbalist, gardener, and wildcrafter of medicinal plants.
LIKE & SUBSCRIBE ON YOUTUBE
https://www.youtube.com/@wildozark
Reviews are a great way to support your favorite artists and small business owners.

If you would like to help me get more easily found by others, leave me a Google review by clicking HERE. It does require you to have a Gmail address, but if you can do this, it would help me out tremendously.

Thank you so much!