It's my favorite time of year! The ragweed is on the decline and I can actually get outside and enjoy the weather without too much fear of repercussion, lol. I'll start taking pics when I see colorful leaves or pretty scenes and add them to this page. So bookmark it if you'd like to see the updates. Here's the start of my Wild Ozark Color Watch. These pics are from today. It's just getting started, and will hopefully become more spectacular as the days progress towards winter.
The Beginning | Wild Ozark Color Watch
That's it for today. When I see more colors, I'll add to the post here. This post will probably be harder to find as the season progresses because new posts will replace it on the front page of my blog. So if you'd like to keep an eye on the colors out here, bookmark this page.
The Science Behind the Color
Interested in why the leaves change colors? As the chlorophyll breaks down, what's left behind are the other pigment colors in the leaves. Here's an article from The Smithsonian to explain in more detail. Learning how or why things happen can add to the experience of the Wild Ozark Color Watch, at least for me. It's still magical because my experiences with the land here impacts me in some way I don't think can be explained.
Ozark Pigments are Naturally Fall Colors
In my paintings, it's a lot easier to portray autumnal colors than other seasons. The rock pigments I use are all so earthy, it always looks like fall in my landscapes unless I use titanium to lighten or brighten the greens and yellows. Here's my latest painting in autumnal hues: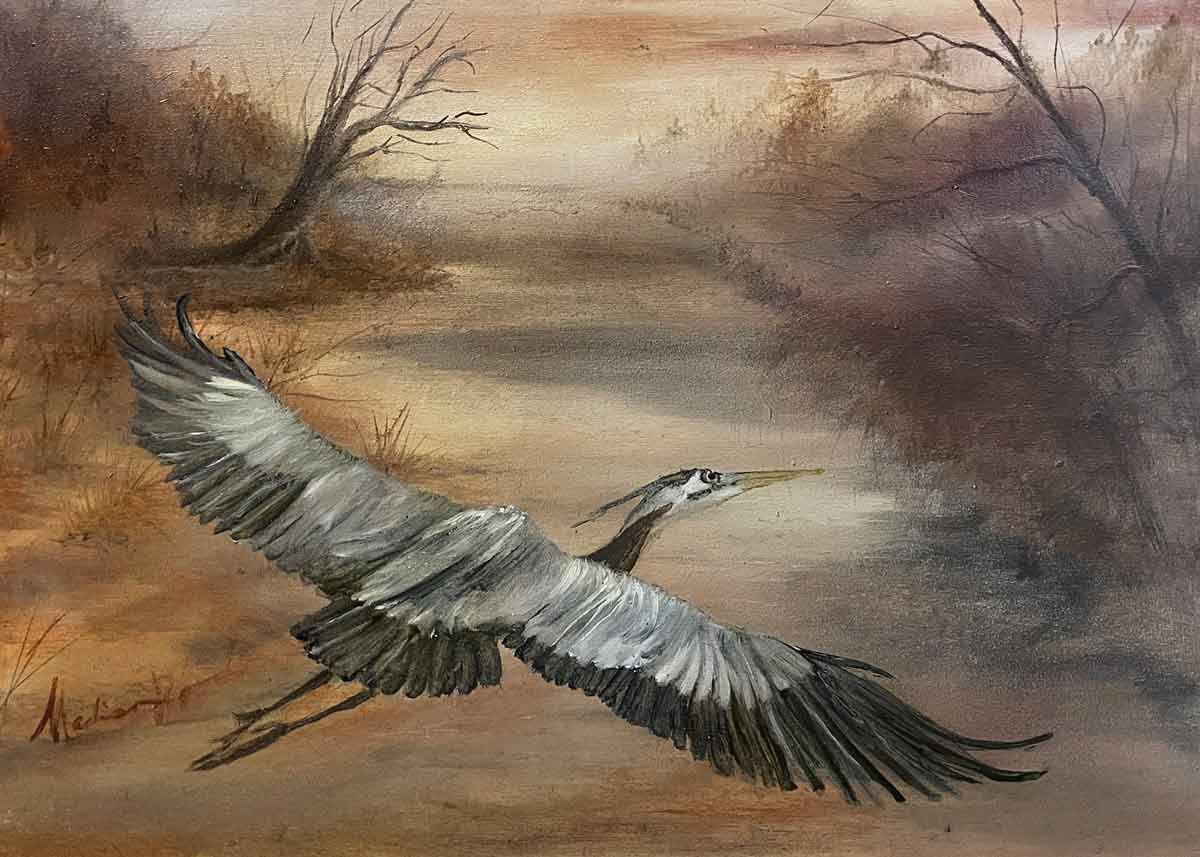 Fall Themed Paintings for the Wild Ozark Color Watch Season
I do have some tiny fall paintings, but they're whimsical and fun, rather than landscape studies:
.
Author/Artist Info
________________________________
Madison Woods is a self-taught artist who moved to the Ozarks from south Louisiana in 2005. In 2018 she began experimenting with watercolor painting, using her local pigments. She calls them Paleo Paints. In 2023 she began her journey into the world of oil painting with those same pigments. Her paintings of the Ozark-inspired scenes feature exclusively the lightfast pigments foraged from Madison county, Arkansas. Her inspiration is nature – the beauty, and the inherent cycle of life and death, destruction and regeneration. Wild Ozark is also the only licensed ginseng nursery in Arkansas. Here's the link for more information on the nursery end of life out here.

Online Portfolio

Click here to join her mailing list.
First and foremost, apart from being an artist and author, Madison is a nature enthusiast. She enjoys using local resources in every aspect of her life and considers the land she and her husband live on as partners in life. They care for the land and the land cares for them. She's an herbalist, gardener, and wildcrafter of medicinal plants.
LIKE & SUBSCRIBE ON YOUTUBE
https://www.youtube.com/@wildozark
Reviews are a great way to support your favorite artists and small business owners.

If you would like to help me get more easily found by others, leave me a Google review by clicking HERE. It does require you to have a Gmail address, but if you can do this, it would help me out tremendously.

Thank you so much!