Near the top of our driveway there's a deep narrow gully where the creek runs in the bottom. There's a flotsam island in the middle of that, with shade-loving plants and ferns growing on it. I've been eyeing that fern near the upstream end because it's so large. I first noticed in a few years ago and didn't get down there to get a closer look. Then a flood washed it away. I thought. But this year it's there again and I did make a point to go down and see it. Now I know it is a Lady Fern, one of the large native ferns of our area.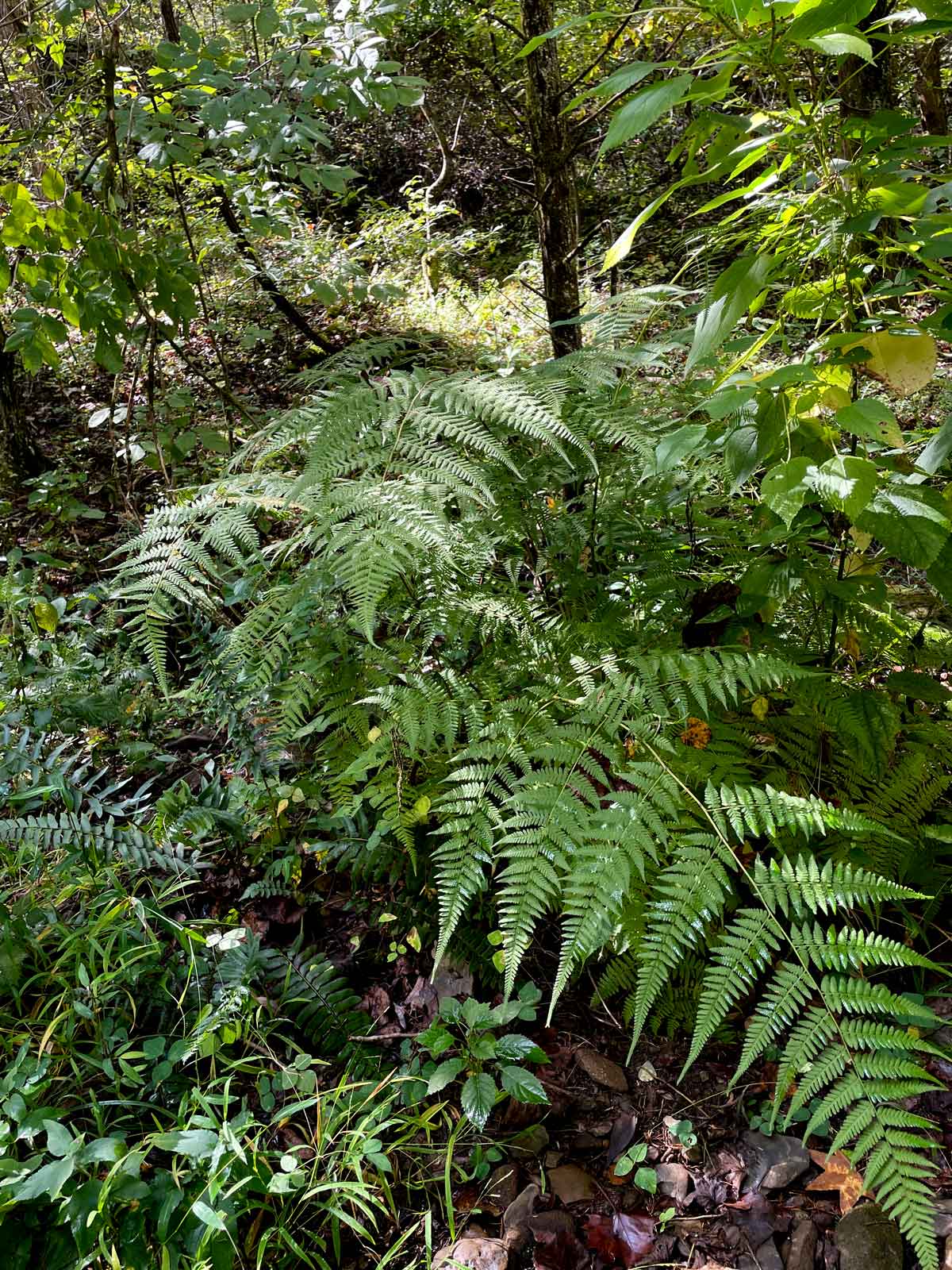 Propagating a Lady Fern
Apparently, Lady Ferns are sold in nurseries, so I wondered if I could get one to grow in my garden near the house. They can be propagated by spores and division. I have a lot of shady areas and a button bush that needs more frequent watering than the rest of the garden. Maybe it will make a good companion for that bush.
There was a baby Lady Fern not far from the large one, so I dug it out of the rocky spot and brought it to a shady spot in my garden to see if it'll be able to live there. Lots of other babies are still there on the little flotsam island to grow. Even if they are washed somewhere downstream, at least this lovely fern will grace some other microcosm somewhere downstream eventually. Hopefully that mother plant will hold fast even in the floods that will surely come.
Other Ferns at Wild Ozark
We have such biodiversity here, and there are several other species of ferns that I also love seeing. I'd like to try establishing a habitat that will support them all somewhere in my garden area. It may mean that I need to take my garden path down the side of the gully so that they will have denser shade. But that was on my task list anyway, because I wanted to create another ginseng habitat garden there.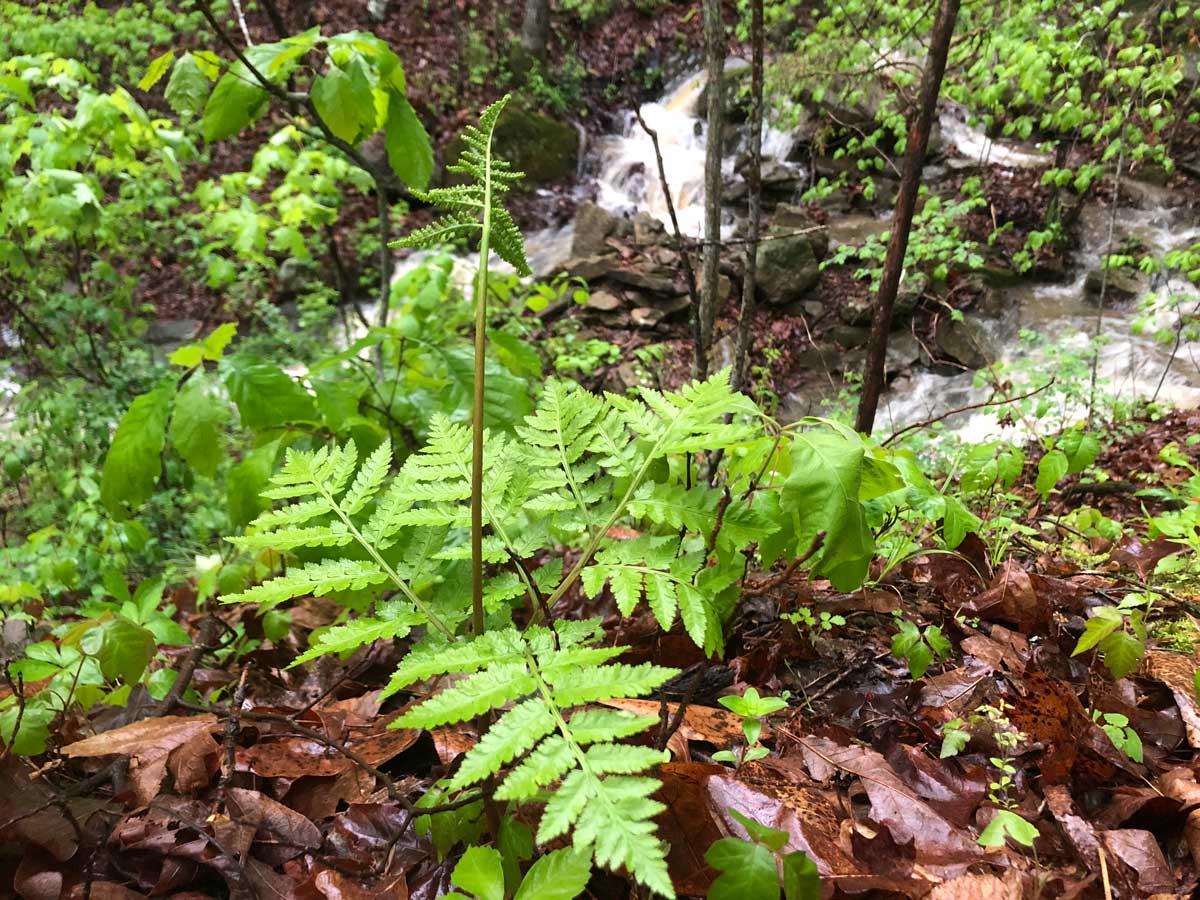 When I have certain plants closer to the house, it's easier to know when the ones at large are at certain stages. When the close ones flower, I'll know the wild ones are likely flowering or soon to be doing so, too. Same with berries. I'd love to relocate a specimen or two of each of the orchids, too, for the same reasons. However, orchids may be difficult or impossible if the conditions aren't perfect for them. It may turn out to be the same with the ferns.
Artistic Opportunities
Of course, I want to paint these ferns. Just like I want to paint all of the orchids and the residents of the ginseng habitat. The ferns and orchids are usually present in the ginseng habitat, but I'd like a special series of just the ferns, and just the orchids.
.
Author/Artist Info
________________________________
Madison Woods is a self-taught artist who moved to the Ozarks from south Louisiana in 2005. In 2018 she began experimenting with watercolor painting, using her local pigments. She calls them Paleo Paints. In 2023 she began her journey into the world of oil painting with those same pigments. Her paintings of the Ozark-inspired scenes feature exclusively the lightfast pigments foraged from Madison county, Arkansas. Her inspiration is nature – the beauty, and the inherent cycle of life and death, destruction and regeneration. Wild Ozark is also the only licensed ginseng nursery in Arkansas. Here's the link for more information on the nursery end of life out here.

Online Portfolio

Click here to join her mailing list.
First and foremost, apart from being an artist and author, Madison is a nature enthusiast. She enjoys using local resources in every aspect of her life and considers the land she and her husband live on as partners in life. They care for the land and the land cares for them. She's an herbalist, gardener, and wildcrafter of medicinal plants.
LIKE & SUBSCRIBE ON YOUTUBE
https://www.youtube.com/@wildozark
Reviews are a great way to support your favorite artists and small business owners.

If you would like to help me get more easily found by others, leave me a Google review by clicking HERE. It does require you to have a Gmail address, but if you can do this, it would help me out tremendously.

Thank you so much!