For the past few months I've been preparing for this weekend. I'm excited to be a vendor at the NWA Boutique Show in Rogers, Arkansas. I've never attended or vended this show before, so I'm not sure what to expect. But from the list of other vendors that'll be there, it sounds like a Christmas shopping extravaganza. I hope there will be shoppers who love my earthy art and want to buy it for their gift-giving this season.
What Am I Bringing?
I'll have most of my original art, just in case anyone is really, really loving my earthy colored display. And I'll have framed prints, unframed prints, note cards, and Paleo Paint sets.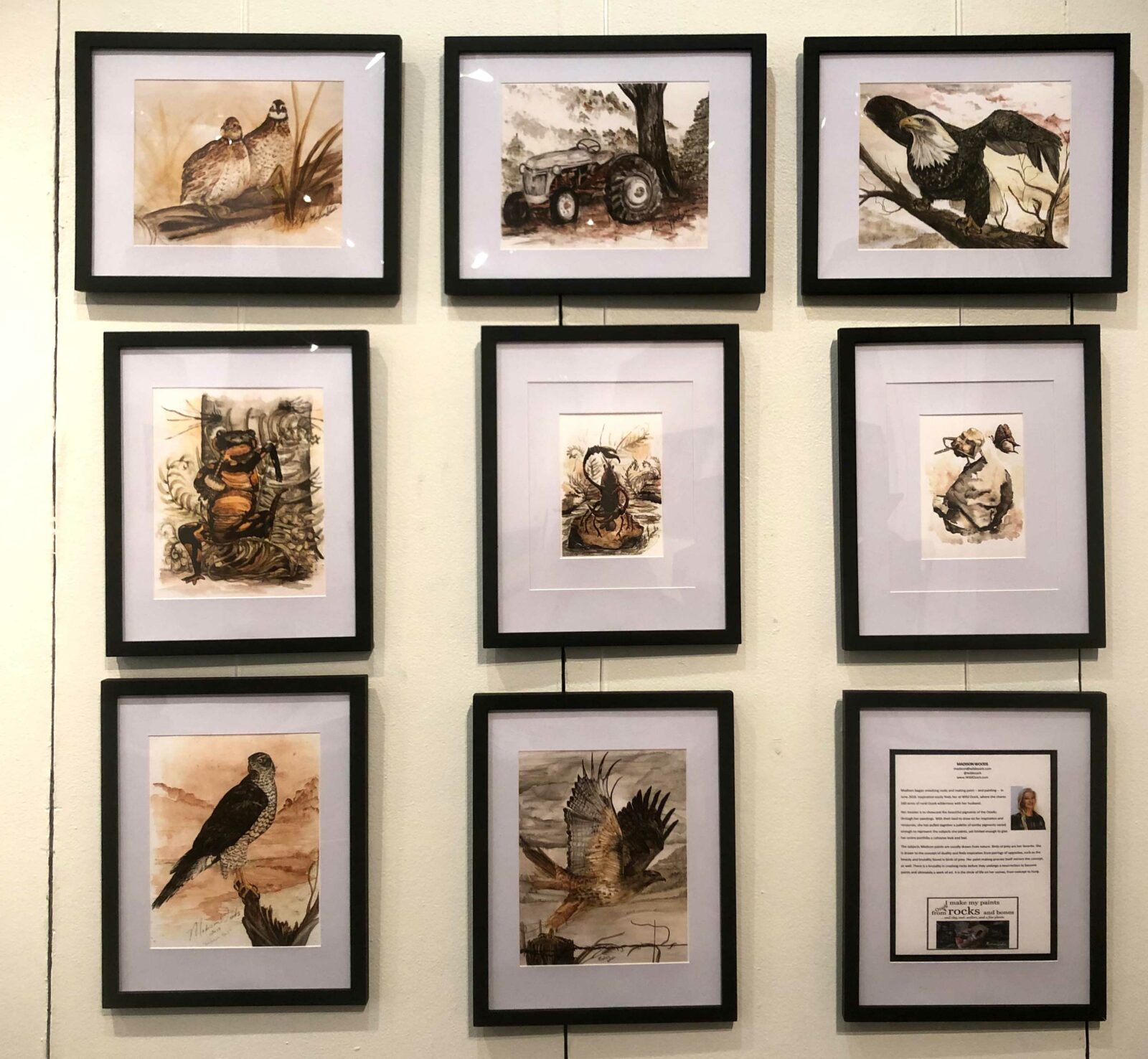 Where is the NWA Boutique Show?
At the Rogers Convention Center (Pinnacle Hills). Here's the rest of the information:
VIP Earlybird Shopping, Friday, 11/18/22, 9 a.m. – 11 a.m.

Get first dibs on all the fabulous shopping during our VIP Event! You'll receive free return admission all weekend during general shopping hours and the chance to win our BEST door prizes. We'll also have live jazz from The Rachel B Band and freebies from Kellogg's, Loreal, TruSkin, The Emerson Group, Radiance by Roller, and Big Orange for each shopper! A portion of proceeds benefit the projects of the Junior Civic League. Concessions will be available. This portion of the event is stroller-free.
($20 online or at the door)
Girls Night Out, Friday, 11/18/22, 5 p.m. – 9 p.m.

Enjoy fun tunes, photo booth and cash bar while you shop. Enter to win dozens of amazing door prizes… and grab freebies from Mars Wrigley and Local Lime! All GNO guests will receive free return admission Saturday, 9:00 a.m. — 6:00 p.m. A portion of proceeds benefit The Junior League of NWA. Concessions will be available. This event is stroller-free.
($15 online or at the door)
General Admission Shopping

Friday, 11/18, 11 a.m. – 4:30 p.m. and Saturday, 11/19, 9 a.m. – 6 p.m.
All the same great shopping with concessions, door prizes and more! Kids 12 and under are free, and strollers* are welcome during general admission hours!
($8 online or at the door)
The 16th Annual NWA Boutique Show… a holiday tradition you won't want to miss!
Northwest Arkansas Boutique Show
November 18-19, 2022
Rogers Convention Center
www.nwaboutiqueshow.com
info@nwaboutiqueshow.com
.
Author/Artist Info
________________________________
Madison Woods is a self-taught artist who moved to the Ozarks from south Louisiana in 2005. In 2018 she began experimenting with watercolor painting, using her local pigments. She calls them Paleo Paints. In 2023 she began her journey into the world of oil painting with those same pigments. Her paintings of the Ozark-inspired scenes feature exclusively the lightfast pigments foraged from Madison county, Arkansas. Her inspiration is nature – the beauty, and the inherent cycle of life and death, destruction and regeneration. Wild Ozark is also the only licensed ginseng nursery in Arkansas. Here's the link for more information on the nursery end of life out here.

Online Portfolio

Click here to join her mailing list.
First and foremost, apart from being an artist and author, Madison is a nature enthusiast. She enjoys using local resources in every aspect of her life and considers the land she and her husband live on as partners in life. They care for the land and the land cares for them. She's an herbalist, gardener, and wildcrafter of medicinal plants.
LIKE & SUBSCRIBE ON YOUTUBE
https://www.youtube.com/@wildozark
Reviews are a great way to support your favorite artists and small business owners.

If you would like to help me get more easily found by others, leave me a Google review by clicking HERE. It does require you to have a Gmail address, but if you can do this, it would help me out tremendously.

Thank you so much!