I've got the car packed up with plants and my art supplies, ready to head over to the studio/gallery in Alpena tomorrow. If you don't know where it is yet, the address is 214 Hwy 62 W, in Alpena, Arkansas. How many places can you go to find ginseng and art in the same place?
If it's not too cold all day tomorrow, I'm planning to sit outside and paint. Maybe the sight of someone outside with an easel will entice people to stop in. Tomorrow I'll also have some plants from the nursery with me. To see the list of what is on hand for tomorrow, check out my ginseng page. I'll only have a few of the 1rst year ginseng seedlings available tomorrow because someone else has already reserved some. But I'll have more potted up for next weekend.
Art and Ginseng an Odd Pairing? You'll find it at Wild Ozark
As I was crossing the creek today to get some seedlings to pot up, I saw a rock that looked like it would be worth the trouble to reach. It was on the deep end of a little drop-off but there was a good sized rock on the side of the creek that I could stand on to reach it. Well, just as I was getting ready to hang over the edge of the rock to stretch, the rock dislodged from the bank. With me on it. Thankfully, it wasn't a long drop and didn't result in a catastrophe of any sort. I still got the rock and the ginseng seedlings.
The wild ginger is blooming right now. The ones I'll have with me to sell are too young yet, but the older ones are.
Today while I was out picking lettuce for supper in the other garden, I spotted something unexpected behind the beebalm. An earthstar! It's been a while since I've seen one of these and never before in my garden.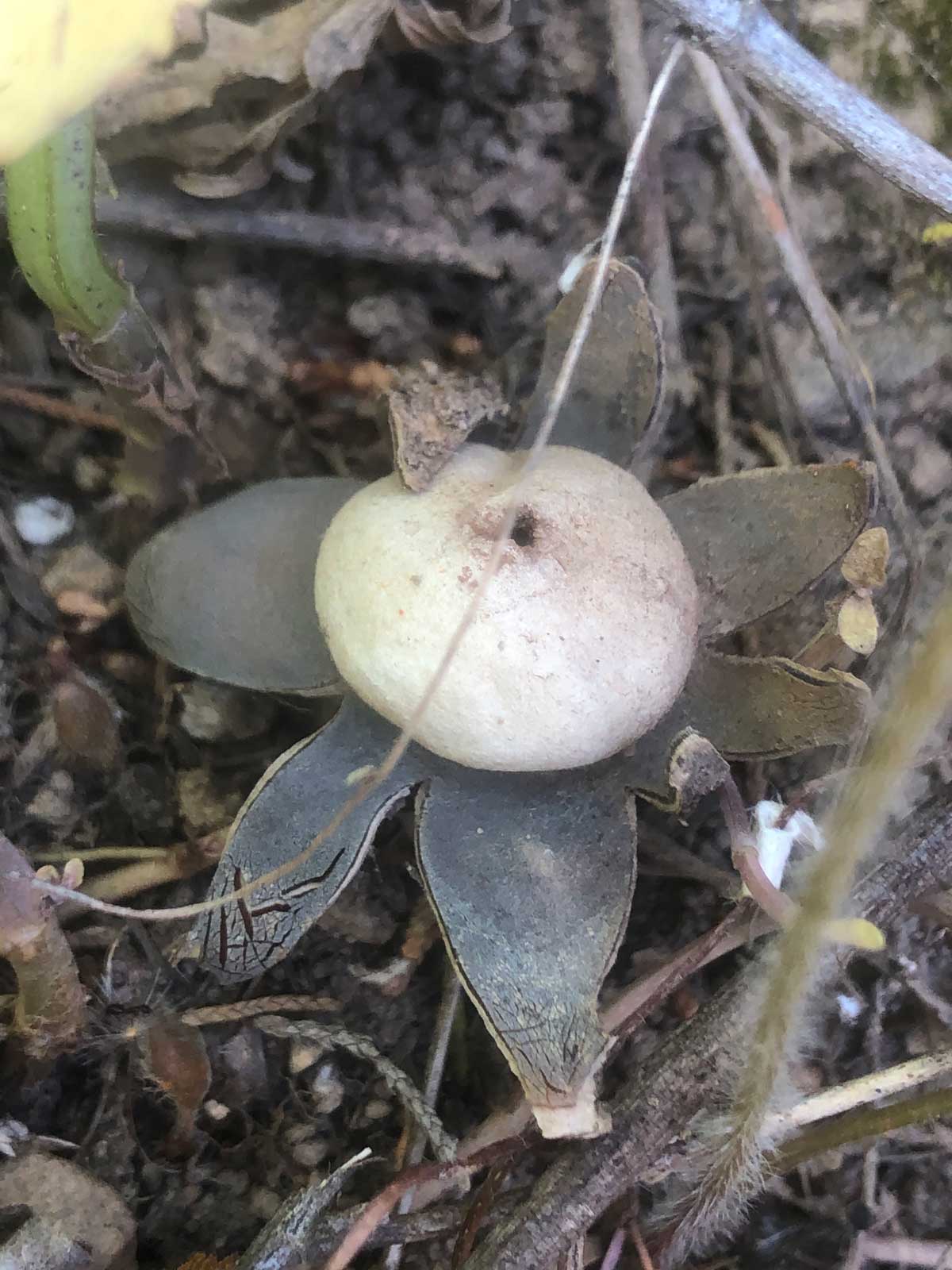 The Wild Ozark Studio is the place to find unique art AND wild-simulated ginseng plants
.
Author/Artist Info
________________________________
Madison Woods is a self-taught artist who moved to the Ozarks from south Louisiana in 2005. In 2018 she began experimenting with watercolor painting, using her local pigments. She calls them Paleo Paints. In 2023 she began her journey into the world of oil painting with those same pigments. Her paintings of the Ozark-inspired scenes feature exclusively the lightfast pigments foraged from Madison county, Arkansas. Her inspiration is nature – the beauty, and the inherent cycle of life and death, destruction and regeneration. Wild Ozark is also the only licensed ginseng nursery in Arkansas. Here's the link for more information on the nursery end of life out here.

Online Portfolio

Click here to join her mailing list.
First and foremost, apart from being an artist and author, Madison is a nature enthusiast. She enjoys using local resources in every aspect of her life and considers the land she and her husband live on as partners in life. They care for the land and the land cares for them. She's an herbalist, gardener, and wildcrafter of medicinal plants.
LIKE & SUBSCRIBE ON YOUTUBE
https://www.youtube.com/@wildozark
Reviews are a great way to support your favorite artists and small business owners.

If you would like to help me get more easily found by others, leave me a Google review by clicking HERE. It does require you to have a Gmail address, but if you can do this, it would help me out tremendously.

Thank you so much!