I'm happy to announce that Detour for a Thirsty Raven was accepted into the Magical Circus show at Fenix Arts in Fayetteville, AR. Thank you to the juror Zeek Taylor, who is a multiple award winning artist and author in Northwest Arkansas.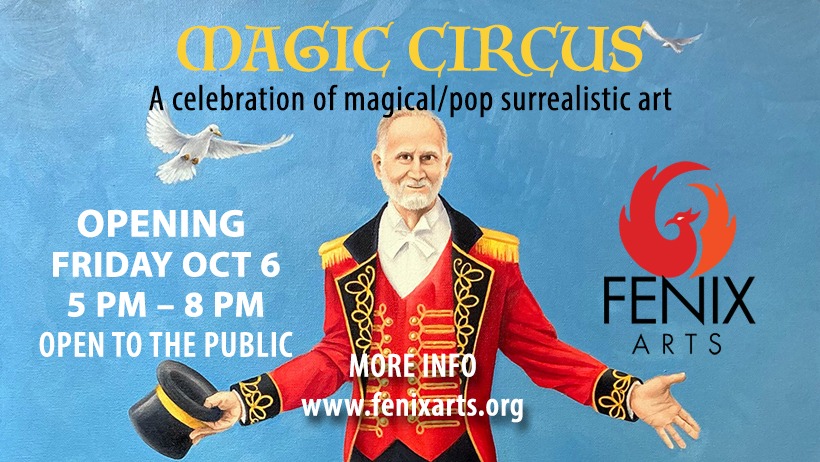 Detour for a Thirsty Raven
At first glance, this painting may not seem surreal, but when was the last time you've been in a beer cellar that had a raven stealing a sip from a tap? It'll be included, and offered for sale during the show.
Where's the Gallery?
Here's all the information on where to find the gallery. I'll be dropping the painting off this Friday, so once I find out more about exactly where it's located at Mount Sequoyah, I can add those details here, too. If you can make it to the opening on Oct. 6, I'd love to see you there! The Opening Reception is on Friday, October 6, 2023 from 5:30 – 8:30 pm. The event is FREE and open to the public. Also, there is a surreal costume contest at the opening receptions so costumes are encouraged. UPDATE: Unfortunately, I will not be able to attend. The Bentonville market is the morning after, and I have to leave my house by 0330. So I hit the bed early on the Friday night before.
ADDRESS
150 W Skyline Dr,
Mount Sequoyah, Millar Building
Fayetteville, AR 72701
PO Box 2892
Fayetteville, AR 72702
479-530-6023
OPEN HOURS
Thursday • Friday • Saturday: 1 – 5 pm
Sunday: 1– 4 pm
.
Author/Artist Info
________________________________
Madison Woods is a self-taught artist who moved to the Ozarks from south Louisiana in 2005. In 2018 she began experimenting with watercolor painting, using her local pigments. She calls them Paleo Paints. In 2023 she began her journey into the world of oil painting with those same pigments. Her paintings of the Ozark-inspired scenes feature exclusively the lightfast pigments foraged from Madison county, Arkansas. Her inspiration is nature – the beauty, and the inherent cycle of life and death, destruction and regeneration. Wild Ozark is also the only licensed ginseng nursery in Arkansas. Here's the link for more information on the nursery end of life out here.

Online Portfolio

Click here to join her mailing list.
First and foremost, apart from being an artist and author, Madison is a nature enthusiast. She enjoys using local resources in every aspect of her life and considers the land she and her husband live on as partners in life. They care for the land and the land cares for them. She's an herbalist, gardener, and wildcrafter of medicinal plants.
LIKE & SUBSCRIBE ON YOUTUBE
https://www.youtube.com/@wildozark
Reviews are a great way to support your favorite artists and small business owners.

If you would like to help me get more easily found by others, leave me a Google review by clicking HERE. It does require you to have a Gmail address, but if you can do this, it would help me out tremendously.

Thank you so much!