Today I'm wrapping up the preparations for tomorrow's exhibit in Springdale Arkansas. It's a new Art Walk kicking off, and this Thursday is the first one. The weather is forecasted to be nice, and the autumn light is in the air, so hopefully art enthusiasts will be in the mood for some earthy vibes!
Details
October 7, Downtown Springdale AR
5 to 8 pm
I'll be at Level 5 Architecture on Holcomb
Here's a link to the Facebook event page for the art walk:
https://www.facebook.com/events/606410533854808/
Art With Earthy Vibes
These Ozark pigments are earthy by nature! Here's the lineup of artwork going with me to town tomorrow: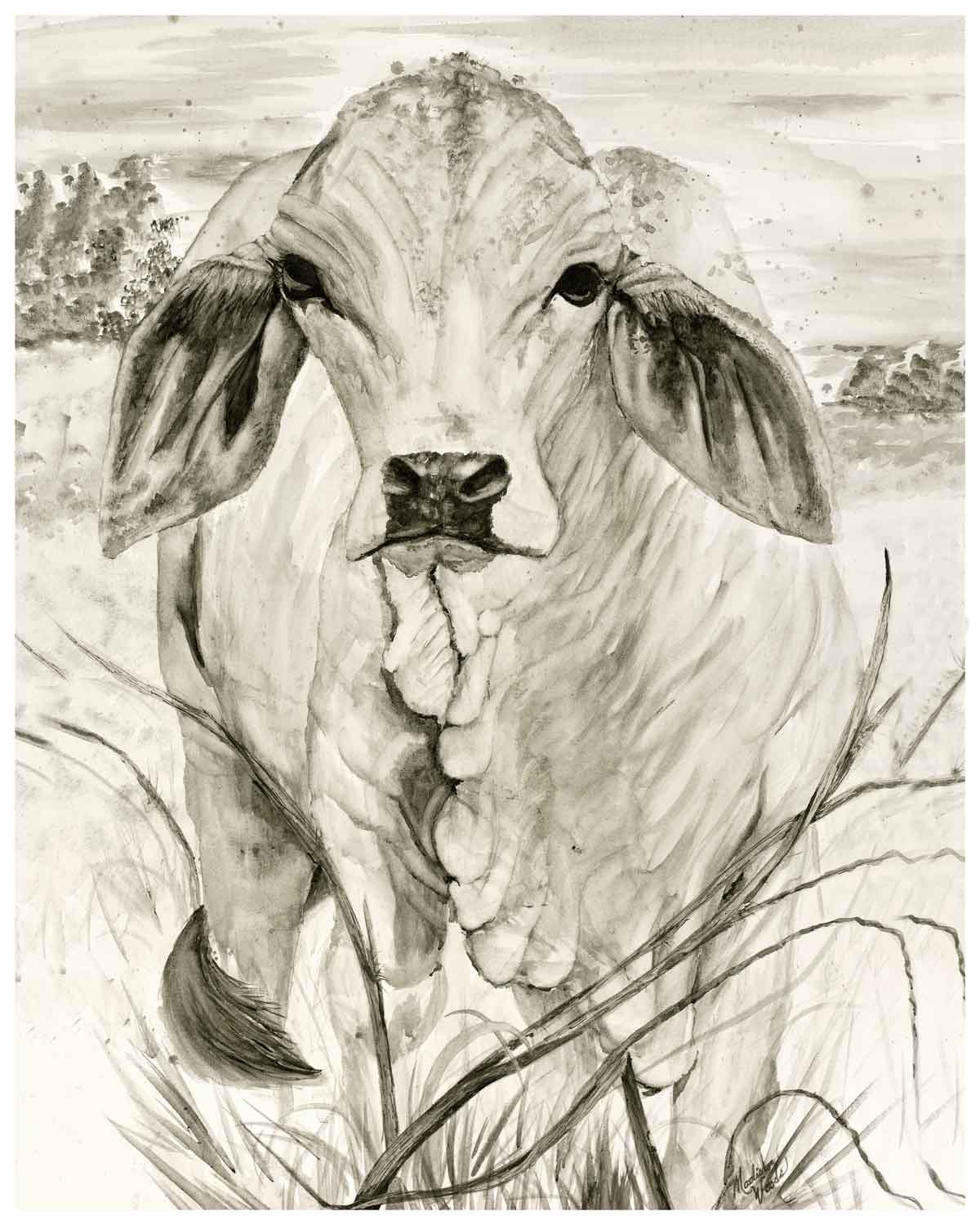 Art Descriptions
These are the descriptions of the works:
Raccoon on the Rocks
12 x 16", framed in shadowbox with pigment samples.
A raccoon among the rocks at Felkins Creek. I painted this on black paper to experience the gouache-like opacity of many of my Ozark pigments. It was an interesting experiment, as the paint isn't very visible on black until it dries, so I had to wait between paint strokes to see exactly what I had done and whether or not it needed more. The end result was pleasing. I loved the contrast between the lighter colors and the black.
$1200
Whisper
22 x 30", framed.
Brahman cows are my favorite breed of bovine, especially the white ones with gray accents. It's the soft, flappy dewlaps and long floppy ears that grab me. This is a young female that belongs to one of my granddaughters, friendly and sassy. Her pigments are all from bone. Charred bone for the black, and ashed bone for the white. I create the bone pigments in small quantities during winter in our wood stove. The source of the bone in this painting are found deer bones on our property at Wild Ozark. I also use antlers, cow bones, and bones from our harvest of deer after they've been allowed to weather in the sun for a few years. Other sources of black I use include charred wood and bituminous coal, and creek shale for a very dark gray.
$2400
Petunia
5 x 7", framed with pigment samples.
Petunia was a beloved pet that belonged to my granddaughter. I had never tried to paint a reptile before, but the earthy colors of our Ozark pigments worked wonderfully to create the textures characteristic of this bearded dragon. I especially love the dewlaps and ear membrane, but also the fat bellies of these friendly lizards.
$175
Rain Crow
4 x 6", paper on panel, varnished and framed.
The call of the yellow-billed cuckoo, also known as a 'rain crow' is one of my favorite sounds of summer. This small painting doesn't need to be covered with glass because it has been protected from environmental and light influences with an invisible varnish. It is the first in a series called 'Often Heard But Seldom Seen' which will include the whippoorwill and spring peeper in the collection.
$150
Rhapsody
12 x 16", framed in shadowbox with pigment samples.
Rhapsody is a northern goshawk and is not a frequent visitor to the Ozarks. When one does fly off course, it is a cause for mayhem as photographers everywhere try to get it captured on film. A falconer from Spain gave me permission to use his photo for this painting. This painting is one of a series I'm working on called Ozark Birds of Prey. It's a large series and is likely to be my lifetime project. So far the red-tail hawk, red-shouldered hawk (sold), bald eagle, and kestrel (sold) are completed. Great horned owl and screech owls are the next two on the to-do in this series.
$1200
Ozarks Rock & Leaf
10 x 8", mounted on foamcore, varnished and framed.
A still life of a little stack of rocks and a sycamore leaf that I painted while sitting on the rocky, sandy shore of Felkins Creek one afternoon in autumn. I love the textures and colors of leaves in fall, and it's satisfying to paint rocks with rocks. The color key of pigments is included in the framing of this one.
$350
Little Cabin in the Woods
4 x 4", framed in shadowbox with pigment samples.
An imaginary cabin in an imaginary woods, painted plein air while in the woods of Wild Ozark last autumn.
$100
Old Shed, Pink Sunset
5 x 7", framed with notes on matting.
This is a rendering of our old shed, from one of many photographs I've taken of it. I left the power pole in the image, although I'd considered not including it. I left it because that very pole is the first pole that ever existed out here at Wild Ozark. When we moved here in 2005, the same transformer was still in use – installed in 1969, which is the year the lights came on for our area. I think the people who lived in the old house here would like to memorialize that power pole.
$175
Proving Her Mettle
20 x 16", framed
I was very nervous to begin working on this bald eagle. It has feather patterns that are different from any of the other raptors I've done and so many other artists have done fantastic paintings of eagles. I'd originally named this one 'Don't Mess With Me', because it looked like she was ready to fight off any other contenders for her space on the branch. But I've since renamed it to 'Proving Her Mettle' because that to me seems to better capture the essence of her posture. The old name is written in pencil at the bottom of the painting. At the time I didn't know an artist isn't supposed to do that, but now it adds to the history of the painting, if you ask me. Proving Her Mettle is one of my works in the Ozark Birds of Prey series.
$1800
Destination Unknown
16 x 20", framed
Another of the raptors in my Ozark Birds of Prey series, this red-tailed hawk is departing for destinations unknown. We see these birds often out here in the Ozarks, and I love them. If I were a falconer, this might be the bird I'd fly. They're large enough to catch rabbits but will happily feast on field mice, too.
$1800
Dr. Carter's Office
12 x 16", framed.
This is a departure from my usual subject. Dr. Carter's Office is one of the buildings on the grounds of the Shiloh Museum of Ozark History in Springdale, AR. This painting used every color in my palette. The blue is light-fast but perhaps not permanent for a hundred years, but is comparable to traditional watercolor permanence. All of the other pigments are lightfast and permanent.
$1200
Simpler Times
12 x 16", framed.
This old Ford 8N tractor once belonged to my grandfather. He used it to till his fields in south Louisiana, where I grew up. My dad owned it for a while and refurbished it. Then he gave it to me and now it lives here in the Ozarks. It needs to be refurbished again after sitting out in the weather for a decade now. The quality of old things like this are lacking in our modern equipment, and there is something to be said for simpler times.
$1200
.
Author/Artist Info
________________________________
Madison Woods is a self-taught artist who moved to the Ozarks from south Louisiana in 2005. In 2018 she began experimenting with watercolor painting, using her local pigments. She calls them Paleo Paints. In 2023 she began her journey into the world of oil painting with those same pigments. Her paintings of the Ozark-inspired scenes feature exclusively the lightfast pigments foraged from Madison county, Arkansas. Her inspiration is nature – the beauty, and the inherent cycle of life and death, destruction and regeneration. Wild Ozark is also the only licensed ginseng nursery in Arkansas. Here's the link for more information on the nursery end of life out here.

Online Portfolio

Click here to join her mailing list.
First and foremost, apart from being an artist and author, Madison is a nature enthusiast. She enjoys using local resources in every aspect of her life and considers the land she and her husband live on as partners in life. They care for the land and the land cares for them. She's an herbalist, gardener, and wildcrafter of medicinal plants.
LIKE & SUBSCRIBE ON YOUTUBE
https://www.youtube.com/@wildozark
Reviews are a great way to support your favorite artists and small business owners.

If you would like to help me get more easily found by others, leave me a Google review by clicking HERE. It does require you to have a Gmail address, but if you can do this, it would help me out tremendously.

Thank you so much!