Update: Monsieur Crawfish original is SOLD.
He was the 2nd in my whimsical series titled Down at the Creek. And it is my choice for the December Original Art Special at my shop.
It all started when I went down to the creek to do a little bit of plein air practice. The idea of taking an easel out to the scenes I want to paint appeals to me, but it never seems to turn out looking like the reality of what is there. This time went even farther off course! The first painting ended up with a flute-playing pebble on top of the actual rock I painted.
So after that, I needed more characters to join the scene. Along came Monsieur Crawfish, dancing a little jig on top of another rock.
50% Off – Marked down to $75
Every month I'll feature a different painting at this deep discount, if the original price is over $100. Most paintings will not be framed, but the varnished smaller ones sometimes will include the frame.
Newsletter subscribers that have opted into my notifications about original art available will be sent an email the day before I make the post to my website or social media, so they have an advance opportunity.
It doesn't show it in the details below, as it shows the full price. But it's $75 until the end of December.
Details
4 x 6″ watercolor paper permanently mounted on board
varnished & framed without glass
free shipping with frame to US addresses
How the Back is Finished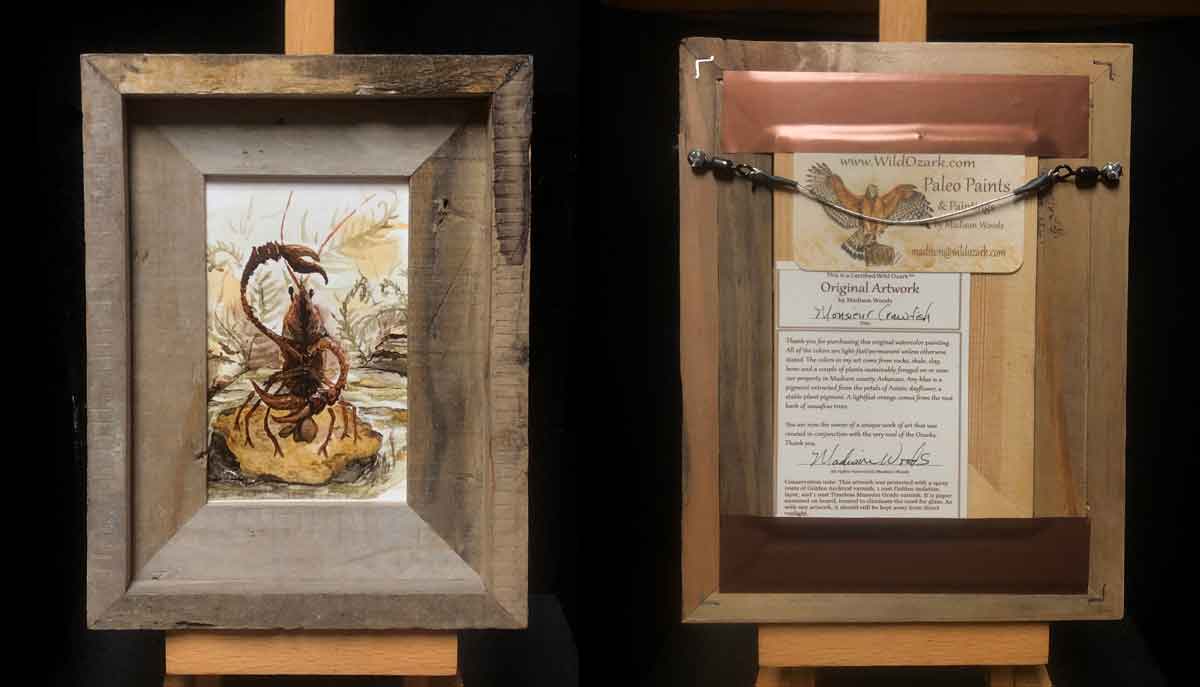 .
Author/Artist Info
________________________________
Madison Woods is a self-taught artist who moved to the Ozarks from south Louisiana in 2005. In 2018 she began experimenting with watercolor painting, using her local pigments. She calls them Paleo Paints. In 2023 she began her journey into the world of oil painting with those same pigments. Her paintings of the Ozark-inspired scenes feature exclusively the lightfast pigments foraged from Madison county, Arkansas. Her inspiration is nature – the beauty, and the inherent cycle of life and death, destruction and regeneration. Wild Ozark is also the only licensed ginseng nursery in Arkansas. Here's the link for more information on the nursery end of life out here.

Online Portfolio

Click here to join her mailing list.
First and foremost, apart from being an artist and author, Madison is a nature enthusiast. She enjoys using local resources in every aspect of her life and considers the land she and her husband live on as partners in life. They care for the land and the land cares for them. She's an herbalist, gardener, and wildcrafter of medicinal plants.
LIKE & SUBSCRIBE ON YOUTUBE
https://www.youtube.com/@wildozark
Reviews are a great way to support your favorite artists and small business owners.

If you would like to help me get more easily found by others, leave me a Google review by clicking HERE. It does require you to have a Gmail address, but if you can do this, it would help me out tremendously.

Thank you so much!