I'm on a quest to find good nature blogs. This is a collection of links to the ones I liked best. I love photography with evocative prose. Feel free to add the ones you love to the comment section below.
My own blog here at Wild Ozark is filled with nature photography, like the fungi below, art and my own musings along with posts about our homesteading life and the woodland plants. I have artwork, too. But I'm building a list of the other blogs out there that inspire and evoke love of nature. Submit yours if you have one, or suggest your favorites and I'll add them to the list below.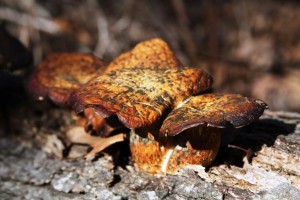 I've periodically searched the internet for great nature blogs, but the results always seem to come up short. The ones that come up in the top listings are either old and haven't been updated in months to years, or are non-existent anymore. There is Nature.com (those are top of the results, always), but they're too academic for what I wanted to read. Tumblr blogs are just too tedious to me, so I didn't list any of the ones I found hosted there.
What I wanted were Thoreau/Emerson type writing or just plain interesting things about the natural world. Oh, and I wanted beautiful/inspiring photography.
I did eventually find quite a few. Those are listed below and I'll be adding to the list often. If you know of some good nature blogs (or if you have one yourself), please leave a link to them in the comments and I'll add them to the list.
Some of the links aren't SSL (https://), so I can't link directly to them but I've visited and at the time of this writing, they are clean sites.
Inspiring Nature Blogs
 

Chert Hollow Farm – a very nice collection of photo-essays chronicling six years of landscape and ecosystem observations in Missouri. www.cherthollowfarm.com/landscape/
 Wilderness Forever Foundation – gorgeous photography and prose by Kush Patel and Adnan Savani from the continents of Africa and South America. Really nice work here.
 Jaimie Gould Country Diary – (The Country Diary of a Leicestershire Lady) A beautiful & informative blog focused on European and mainly British wildlife
Ramble – a blog by the author of The Forest Unseen. This was a marvelous submission by Barbara Sprout (thank you!)
The Bantering Bibliocrat – a delightful blog from an author in suburban North Carolina http://www.banteringbibliocrat.com/
The Northwoods Guy – He created his blog with the hopes of bringing people closer to Nature through the works of Thoreau, Emerson, Abbey, etc, along with his own musings. www.northwoodsguy.com
Patagonia Nature Journal – Lori's blog of nature
Lost Pines Life – Tammy Brown's paintings, photos, and adventures at Little Piney in the Lost pines of Bastrop, TX. www.lostpineslife.com

 

Wild Mountain Echos – listen to recordings of sounds of nature. Love this one! www.wildmountainechoes.com/2013/02/not-quite-spring-yet-3/
Wild Ozark – my own blog 🙂
Carl Bovis Nature Photography – he has the cutest photos of cygnets I've ever seen!
Bird Light Wind – gorgeous photos and narration www.kitundu.com/birdlightwind
Uprooted Magnolia – chronicles of life on a ranch in Wyoming. I love Wyoming, so couldn't resist listing this one.

♥

Leaf and Twig – one of my favorites because her photos are gorgeous and her poetic captions are always evocative.
the Whispering Earth – beautiful posts on herbal earth medicines
The Woods Edge by Martin James Wood – this one is membership based, but there's a few areas you can visit without paying a subscription fee.
The Nature Preservation Project –fabulous photography. "Nature Preservation Project aims to acquire land to preserve and restore nature, and to bring the beauty to you through our photography."
---
The following are not blogs, but other formats with lots of nature
A music video with Cee Blue featuring some nice landscape footage from 

Whakapapa,

 

New Zealand.

Short Nature Videos – really heartfelt sharing of nature from Martel Clouds.