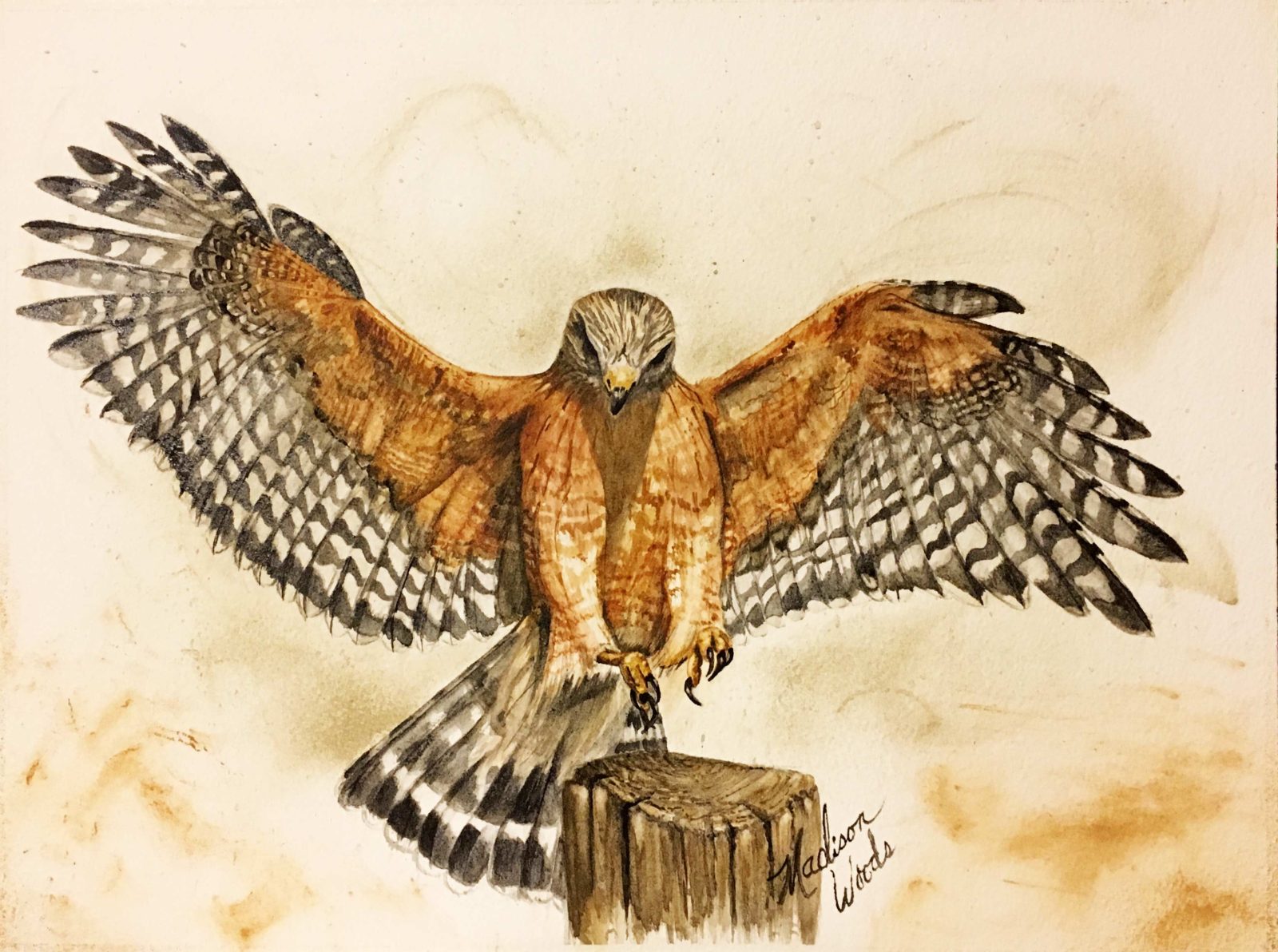 Raptor Paintings in Ozark Pigments
by Madison Woods
This is the Ozark Birds of Prey project. My goal is to paint at least one of each species, working in series by the species. The list spans all of the Ozark birds of prey, which includes Arkansas, Missouri, and far eastern Oklahoma. Plus maybe one or two that are my husband's favorites that don't actually live here (goshawk and peregrine). As I get each one finished, I'll link it to the process page for it.
This will be an ongoing series, and I'll also do other paintings in between the birds. Birds of prey are my personal favorite, so even if I take long detours between each one, I'll always come back to painting them.
Wild-crafted Ozark Pigments – A Unique Artistic Angle The thing that sets my work apart is the color. Before I make a painting, first I make the paint. And before I make the paint, there are pigments to gather. I collect rocks, clay, and a couple of plants I know to produce light-fast pigments to create the palette used for each painting. If you're interested in this process of making paint, check out my page on making watercolor paints.
Ozark Oil Pigments. For the remainder of the series, I'll be working in oil paints that I make from the Ozark pigments. With oils, in order to be able to adjust values, I do have to purchase titanium oxide powder to make an opaque white. So all of the colors except for the white are Ozark colors.
The Latest Finished Ozark Birds of Prey Painting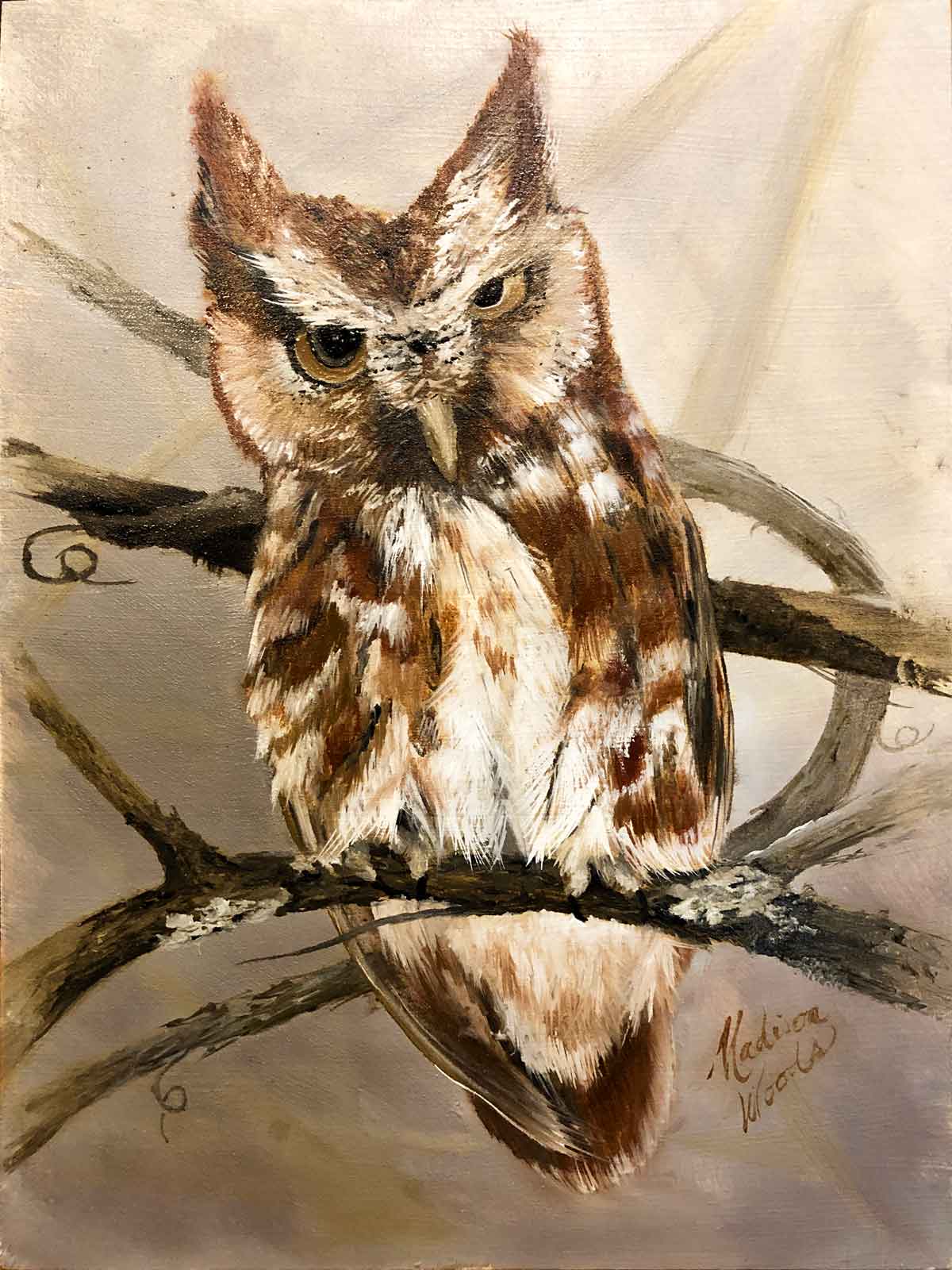 The List: Ozark Birds of Prey (26 species)
The list is broken into sections by type of raptor. This particular project encompasses only those birds of prey that can be seen in the Ozarks, but the larger collection will include all North American Birds of Prey.
Hawks (11 species)
Red-shouldered (one portrait finished, April 2019)
Red-tailed (one portrait finished, July 2019)
Sharp-shinned (need photos)
Northern goshawk (Completed series)
Northern harrier (need photos)
Ferruginous (need photos)
Rough-legged (need photos)
Swainson's (need photos)
Broad-winged (need photos)
Harris (need photos)
Cooper's (need photos)
Falcons (4 species)
American kestrel (Completed series)
Peregrin (need more photos flying/landing)
Eagles (2 species)
Golden eagle (need photos)
Owls (7 species)
Barred (need photos)
Barn (need photos)
Northern saw whet (need photos)
Long-eared (need photos)
Short-eared (need photos)
Vultures (2 species)
Turkey (need photos)
Black (need photos)
About the Artist and the Birds of Prey Project
Hi, I'm Madison Woods. I use foraged, light-fast pigments (from rocks, clay, or plants) to create the paint I use in my work. All of the colors you'll see in my birds of prey in this project will be Ozark colors, except where I've used a bright white. That white is made from a clean chalk powder.
First I collect the rocks, then I smash them and grind them to a powder. Once that is done I make watercolor paints by adding a solution of gum Arabic to the pigment. My art is literally created from the ground up.
I'm not painting in any particular order on the list above. As I find photographers with images they'll give permission to use, I will do that bird. Sometimes I'm not ready to begin yet and will file the photo with permissions for later use.
Are You a Photographer/Birder? Hey birders! If you have good photos of any I haven't done yet and want to let me use them for reference, email me! My addy is madison@wildozark.com. I'll be happy to send you a signed print.
Many thanks go to the following photographers. I've used their images for the birds so far completed:
Terry Stanfill of Siloam Springs/Gravette (all kestrels, red-shouldered hawk)
Javier Sanz, of Spain (Goshawk No. 2, "Rhapsody")
Nicoli Gianluca, of Italy (Goshawk No. 1)
Lars Jones, of Florida (red-shouldered hawk)
Shelby Townsend, of Louisiana (peregrine)
More Information
You can see my portfolio of paintings by clicking here. The links in the list above bring you to the process page for that particular painting. Also in the list, the information in parenthesis indicates the order in which the birds were painted and the month/year it was created. I began painting altogether in July 2018, self-taught. My handmade watercolors are the only paint I've ever used.
If you're interested in following along as I paint, look for me on Instagram (@wildozark). I usually post a lot of progress pics throughout the process.
I'd love to know if you're following my work, so please leave a comment to let me know you were here. A comment also helps my website rank better in search engines, which brings more traffic my way. Thank you!