ARTWORK
Thank you for browsing my paintings made with earth pigments from the Ozarks. All of the colors in my work came from locally foraged pigments. I make all of my watercolor paints by hand. Longevity and durability are important considerations. Any fugitive colors used are prominently mentioned in the product descriptions.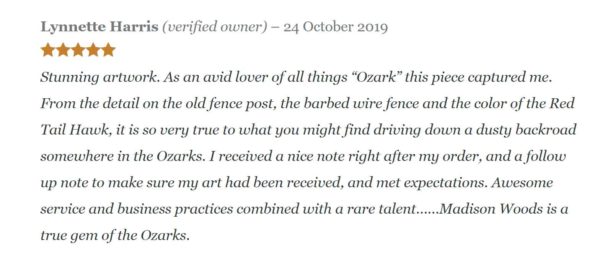 Quality Control, Shipping, and International
All prints are made in house on a Canon Pro2000 large format printer with archival inks and fine art paper. Prints and originals will be shipped flat and packaged securely and shipped with insurance, and a signature is required for original delivery.
I can ship artwork internationally, but you'll have to email [email protected] for a PayPal invoice, as I do not think my shop will allow international addresses. International shipping will apply. Free shipping to domestic addresses only. Buyer is responsible for tariffs, duties. Seller is not responsible for delays or loss at customs.

Gallery of Paintings Made with Earth Pigments
You can see all of my paintings made with earth pigments on the gallery pages at www.PaleoPaints.com, and any of them are available as prints. Not all of them have been uploaded here to my online shop. The ones where originals are available are noted in the captions on the gallery pages. If you see one you'd like, just send me an email or contact through social media. I'm 'wildozark' everywhere.
Get a New Print Monthly for $3/month
Become a Patron and get free archival prints every month! Even at the $3/mo level I'll send out a different 4 x 6″ print of one of my artworks to supporters. The prints are a $10 value. Details at the link below.
Back in the old days, artists would seek a wealthy patron to support them so they could dedicate themselves to their craft. These days, that practice has changed a bit. Now we use the Patreon platform, and we appreciate even $3/monthly stipends from supporters of the arts.
---
Prints and Originals: