Bald Eagle Artwork 10 " x 8″ Prints $25 $19.99!
PLUS a Note Card with Envelope at NO EXTRA CHARGE. The note card is a $5 value, plus the print is discounted by $5, so you're getting more for your hard-earned money.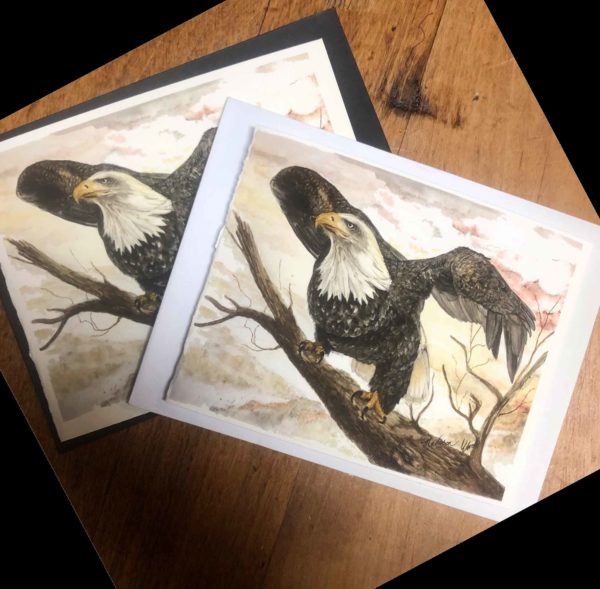 (Smaller and larger sizes available.)
This print of an american bald eagle is a reproduction of original artwork in watercolor by Madison Woods. Madison uses pigments from her surroundings to make her paints by hand. If you like art that can also be a conversation piece, or want to display works of art unlike run-of-the-mill prints you can find elsewhere, this is the artist you should follow and support.
In the original painting, the black is from charred bone. Gray came from shale the artist finds in the creeks near her home in northwest Arkansas. The yellow on the eagle's feet and beak came from sandstone, while the yellow in the background is from the leaves of sassafras trees. Some of the orange in the background is from the bark of the roots of sassafras trees. The brown in the tree limb is from a black sandstone. All of the other colors are from various shades of sandstone. The color in sandstone comes from various oxides of iron and manganese. Earth pigments like these are light-stable and permanent. All of it completely, 100% natural and hand-made.
The prints of this American Bald Eagle are exact reproductions of the original art. The colors in the print are exactly the same as the colors in the originals. So you can look at your artwork and know you are looking at the colors of the earth – the colors of the Ozarks. All sizes of prints from Wild Ozark are produced on archival quality paper with archival quality pigment inks using a professional grade wide-format printer.
Details for this American Bald Eagle Print
Archival
Heavy-weight watercolor paper
Signed by artist
Ships FREE to US addresses
$25 $19.99, includes FREE shipping to US addresses
International customers: please email me for an invoice that includes shipping. (Tariffs, customs, or other duties are buyer responsibility.) Please include your full mailing address and name. Thank you!
About the Artist

.
Author/Artist Info
________________________________
In the summer of 2018 I began making watercolor paints from the rocks, clay, and other resources of our land here in the Ozarks. My artwork is made exclusively with these paints. I call them Wild Ozark Paleo Paints, because they're made in a way very close to the same way paints were made when man first put a handprint on the wall of a cave. My specialty is painting nature, specifically the nature that surrounds me here in the remote hills of northwest Arkansas.

My Portfolio is at MadisonWoods.art

Click here to join my mailing list.