Join me at your convenience for this introduction to paint-making workshop. Learn the joy of smashing rocks and making your own handmade watercolor paints. This event listing is for individuals or private groups that can't meet on the scheduled workshop dates or would prefer a more flexible date to participate. The price is per person. It is for a full day of introduction level paint-making from the ground up.
An Introduction on Making Handmade Watercolor Paint
Join me for a day of rock-smashing fun! Spend the day making watercolor paints by hand from the rock to the finished paint. If you'd like to be notified of future workshops, join my mailing list and be sure to check off the "Workshops" special interest group.
When: Any unscheduled day on my calendar (click here for the calendar)
Where: Meet at the Wild Ozark gate (I'll email address to participants)
What Time: 10 am – 4 pm
What to Bring: lunch (optional-there is also the cafe in town), water to drink, tick spray
How Many: up to 5 persons are welcome if you have a group, but cost is per person.
Foraging for Pigments
The first thing we'll do in this paint-making workshop is gather the pigments. We'll collect rocks from the creek, or clay from the landslide and bring them back to the house to process into handmade watercolor paints.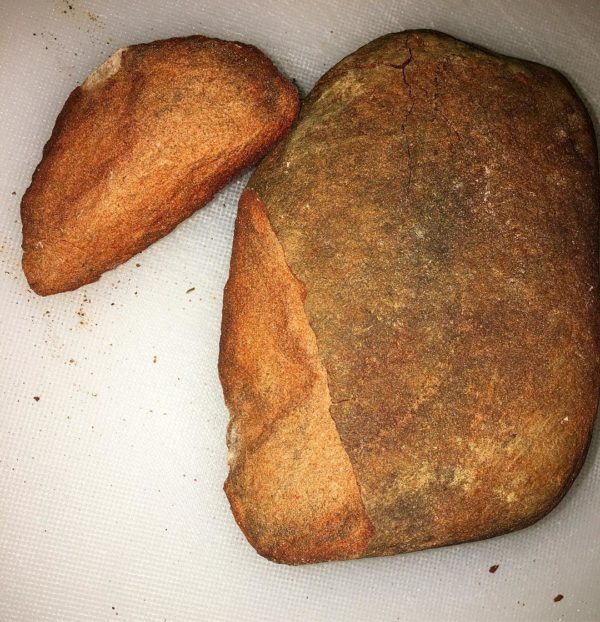 Paint-Making Workshop Schedule
This isn't meant to be a rigid schedule, but an idea of what sort of things we'll be doing throughout the day. If foraging or another part of the schedule takes longer, or less time, then we'll adjust accordingly.
10 am: Meet at the gates of Wild Ozark, forage for rocks
11 am: Break rocks into smaller chunks
12 pm: lunch
1:30 pm: grind rocks into pigment powders
2:30 pm: mull pigments into watercolor paints
4:00 pm: clean up and go home
We'll go over what kinds of rocks make what kinds of colors, you'll get to smash a few different types to see the differences between the rocks and how they process. I'll go over how the gum Arabic solution is made. You'll go home with a few pans of paint that you've made yourself from Wild Ozark rocks, and you'll never look at your surroundings the same way again!
Once you've determined a date, EMAIL ME to book it and confirm that date is available. Then pay for the event. If you pay first and there are no dates available that work for both of us, I'll refund your money, so no worries if you get this process out of order. The months of February and June are unavailable.
---
If you are coming in from farther afield and want a place to stay overnight there are a few local options, but most of the hotels you'll find are in Eureka Springs or Fayetteville. Both of those cities are about an hour to an hour and a half from Kingston. Eureka Springs is a pretty awesome little town to visit.