Unless otherwise stated, all of my Paleo Paints are earth pigments and light fast. Paleo Paint Balls are the largest paint size offered at this time. I've been using my driftwood palette with some of the same balls throughout several paintings and they're still going. When one is finished, I just take the glue spot off and add a new paint ball.
This listing is for a Single Paleo Paint Ball
---
Paint Balls and Other Singles
Singles are (intermittently) available in the following configurations. Reusable palettes are available with some of my sets, and these singles can be used to refill or replace paints as you use them. Or you can invent ways to dispense them creatively. The metal pans are attracted to magnets. I add the cubes and balls to driftwood or other natural settings to create artistic palettes.
cubes
balls
round 26 mm metal pans
square 26 mm metal pans
magnetic hickory boats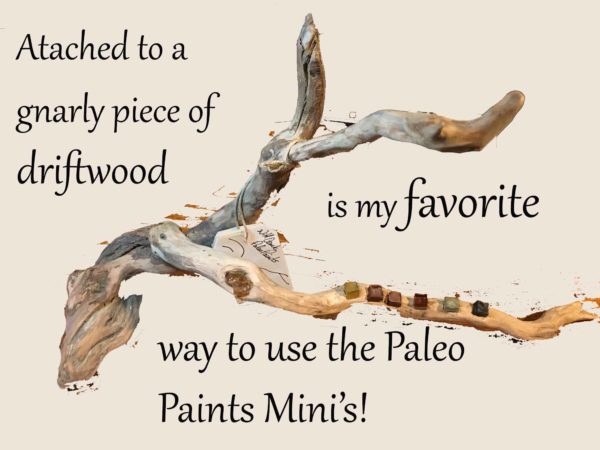 The Pigments (listing specifies which colors are available)
The varieties offered will change as I make my own paints. The list below will be added to as I make a new color that wasn't previously listed. Not all colors are available at all times. I have an article that gives more information on the various colors and what they come from. Click here to open a separate tab to read it. I'll update it with any new colors as I find or create them. The following is a list of intermittently available Paleo Paints.
Red Lites
Red Middles
Red Heavies
Red Middles Gouache
Whole Red Clay
Red & Yellow lites combo
Whole Yellow
Yellow Lites
Yellow Gouache
Green Lights Gouache
Green Heavies
Red plus Pink
Bone Black (bone sourced, light fast)
Vine Black (plant sourced, but light fast)
Antler Black (antler sourced, light fast)
Shale Gray
Brown Brown
Sassafras Root Bark (plant sourced, light fast)
Sassafras Leaf (plant sourced, light fast)
Red Leaf of Black Gum (plant sourced, light fast)
Murdock
Earthy Murdock (brown brown with Murdock)
Cromwell's Sunrise
Whole Earthy Delight
Sassy Lake (a very pale yellow lake pigment from sassafras leaf)
A Note about Color Reproducibility & Transparency
All of my paleo paint samples are made from natural foraged rocks, clay, or other resources. While I may be able to come close to reproducing the color later, it's very unlikely I'll get an exact match. There's enough pigment in each of these dots to paint several swatches, and possibly full small paintings in the style I produce. A little bit does seem to go a long ways.
Watercolor paints made from earth pigments are not as transparent as those you might be used to. All of them are more similar to gouache than not. The ones I've labeled 'gouache' are more opaque than the pigments alone. The only ones of my paleo paint samples that are truly transparent are those from plant pigments, like the sassafras root bark in this collection.
You can see the paintings I've made using my handmade watercolor paints at www.PaleoPaints.com if you'd like to get an idea of how they look.