Padauk Keepsake Boxes, 2nd Series for Wild Ozark by Rob. These smaller boxes make affordable gifts for loved ones for any occasion.
Wood: Padauk
This is a genuine Wild Ozark Keepsake box, handcrafted with care.
The second series of keepsake boxes was also completed in 2017, and comes with a full one year craftsmanship warranty to the original owner.
The warranty covers defects in workmanship and materials for one year. If the original owner is not happy with this product Wild Ozark will repair, replace, or refund the original purchase price, at its discretion, within one year of purchase.
Limited Edition Keepsake Boxes
This box is one of five. It is made from Padauk wood. It is 100% hand made in the USA by a Veteran with pride.
Each box is hand rubbed with tung oil to a high shine. You can request a box of the same design with a more natural finish or customized with names or fern patterns on the lid or sides. 
Padauk grows in Africa. The color starts out a brilliant vermillion when first planed but mellows to a deep reddish purple.
Sustainability
None of the species of trees used in our woodwork are listed as threatened.
Care of the Box
Padauk is susceptible to oxidation and ultraviolet light fading, as most woods are. This can be slowed using a water based UV coating but not stopped.
Tung oil is our favorite protectant and can be reapplied as needed, as the wood absorbs the initial treatment. This need to future treatment is a normal process of the wood and is not covered in the warranty.
Each box is burned with the "Wild Ozark" trade mark. 
We hope you enjoy your Wild Ozark keepsake box.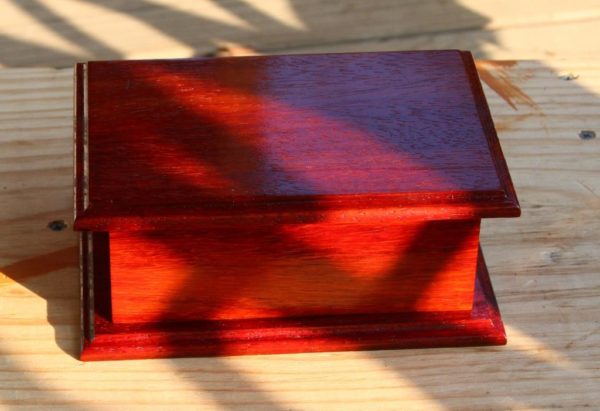 Mailing List
List members will get announcements whenever Rob makes a new work.