Join me at your convenience for this workshop for learning to make bone black (& willow charcoal sticks). This event listing is for individuals and private groups that can't meet on the scheduled workshop dates or would prefer a more flexible date to participate.
The next "scheduled group workshop"  for making bone-black is on Saturday, June 15.
Making Bone Black (& willow charcoal sticks)
Black paint made from charred bone creates the blackest of blacks, a velvety matte black, darker than any other black I've ever made. I'll share my process with you and you'll go home with a pan of your own.
When: Any unscheduled day on my calendar (click here for the calendar)
Where: Meet at the Wild Ozark gate (I'll email address to participants)
What Time: 10 am – 4 pm
What to Bring: lunch (optional-there is also the cafe in town), water to drink, tick spray
How Many: up to 5 persons are welcome if you have a group, but cost is per person.
Foraging for Pigments
The first thing we'll do in this paint-making workshop is gather the willow sticks. I'll already have the bone gathered and cleaned. If you have clean, dry cow or deer bones you'd like to bring, please do.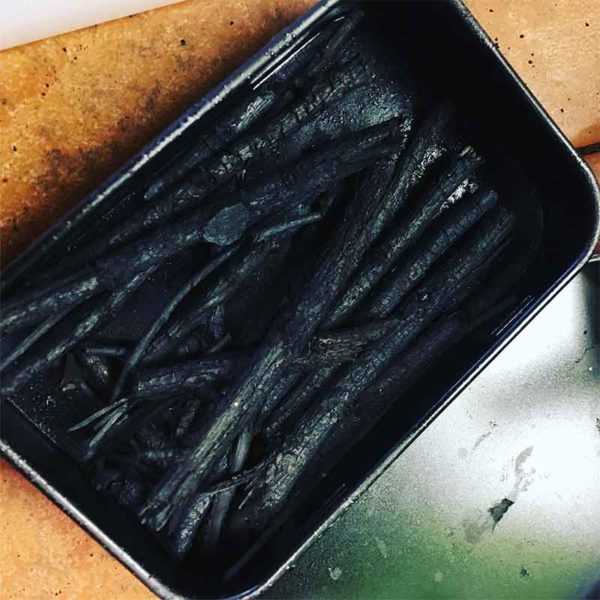 Making Bone Black Workshop Schedule
This isn't meant to be a rigid schedule, but an idea of what sort of things we'll be doing throughout the day. If foraging or another part of the schedule takes longer, or less time, then we'll adjust accordingly.
10 am: Meet at the gates of Wild Ozark, forage for willow sticks
11 am: Break sticks and bones to appropriate size, put to the charring process
12 pm: lunch
1:30 pm: grind charred bone into pigment powder
2:30 pm: mull pigments into watercolor paints
4:00 pm: clean up and go home
With only one person the day may end sooner, but when more are participating it usually lasts until close to 4 pm.
Once you've determined a date, EMAIL ME to book it and confirm that date is available. Then pay for the event. If you pay first and there are no dates available that work for both of us, I'll refund your money, so no worries if you get this process out of order. The month of May is unavailable.
---
If you are coming in from farther afield and want a place to stay overnight there are a few local options, but most of the hotels you'll find are in Eureka Springs or Fayetteville. Both of those cities are about an hour to an hour and a half from Kingston. Eureka Springs is a pretty awesome little town to visit.