All colors in this set are lightfast watercolor pigments made from rocks (and bone) foraged right here at Wild Ozark in Madison county of northwest Arkansas. The geological makeup of the mountains here change considerably from location to location. Even within the Kingston area, there are some locations that are mostly limestone type rocks and some locations that are mostly sandstone, shale, and clay. I feel very fortunate that our land is mostly of this latter assortment.
The assortment of colors I'm able to derive from our own stone is impressive. The only color range I have not found yet is blue. At least there is now a sort of green ('Ozark Green', included in this set). I gather stones from all around our own 160 acres here, and also from Felkins creek and King's river. Both of these other locations are a short distance away from our gate, and the makeup is similar. However, the only place I've been able to find the pigment that goes into the cleanest red I've found (I call it "Blood of the Ozarks") comes from tiny little non-sandy pebbles I find on the rocky beaches of Kings river.
The Stone & Bone Pigments of 2021-04
These are the colors included in this set. You can read about more of the other stones I use for watercolor pigments here. All of the pigments in this particular set were derived from stones and bone (deer) found here at Wild Ozark.
2021-03b (+ limestone)
When I make a paint from a pigment that has lots of saturation, it often leaves a lot of the color behind on the mulling board once I've scraped all I can of it up. So, rather than waste this color down the drain, I'll add a little bit of limestone (tumbled and weathered, found naturally in our creeks here). The limestone uses the leftover color and makes a different (usually lighter or brighter) shade of color, and leaves nothing behind to waste. 2021-03b is available in my catalog as a whole, ground pigment for those who make their own paints.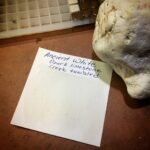 2021-03a lites
This is the portion of washed pigment that stays suspended after the heavies sank to the bottom of the jar. The lites are generally smoother and often more pigmented than the heavies. It does stain, so once you've made a mark with it, that mark is there to stay although on hot press paper, it can be lifted some.
2020-red
I didn't start my current numbering system until 2021, so any paints left from 2020 are just named with year and closest color. Most reds have a touch of brown or orange, more rusty than red. This one is on the redder side, though it does also have brown in there. This paint also stains.
2020-Bone Black
Made from deer bones, charred in our woodstove during winter months. Bone makes a velvety black that ranges from gray to opaque black. It is a matte color, like most earth pigment paints. Texture on the paper is smooth.
2020-Bone White
It is difficult to make bone white because the fire needs to be very hot. Ordinarily, we don't run our wood stove that hot but this time we did (accidentally put a few more locust branches in there than needed). So, I have a limited amount of white made from ashed deer bones. There are only 2 pans of these watercolor pigments available (of the black and the white).
2021-06 lites
There is only one source of light fast green out here (that I know of so far). It comes from a grayish green stone and yields a sort of sage to cedar green. It's the color I use for all green needs in my art. This is a smooth texture, and it does not stain. So if you draw outlines with paint, like I do when starting a new painting, then this is a color you can lift and erase if necessary.
A Note about Color Reproducibility & Transparency
All of my colors are made from natural foraged rocks, clay, or other resources. While I may be able to come close to reproducing the color later, it's very unlikely I'll get an exact match. There's enough pigment in each of these pans to paint several paintings in the style I produce. A little bit does seem to go a long ways. But if you want to make sure you'll have more of the exact same shade, inquire to see if there is more from this same batch. It may not be in the same form, but should at least be the same color.
The Numbering System
With the numbering system I use, all batches made from a single jar of ground pigment will have a common prefix. The successive batches will have the same prefix with an additional number or letter to show it is a separate batch from the same batch of ground pigment. These colors should all be very similar to each other but may not be exact. If the number is identical, then the color should also be.
For example, 2021-03b is the name of the batch of ground pigment from yellow rocks. The paints made from this can either be 'whole', 'lites' or 'heavies'. If I make another set of paint from this pigment at a later date, I'll name it 2021-03b1. So, if it came from the first batch of paint I made with that pigment, it's -03b. If it's paint from a second paint-making day (with the same pigment) it'll be -03b1.
But if I grind another batch of pigment from yellow rocks, I'll give it a different number because these yellow rocks will never be exactly the same as other yellow rocks. If it's in 2021, that number may be 2021-03c (or whatever letter I'm on, but the year will be consistent throughout the year, and the 03 will always signify yellow rocks).
Transparency
Watercolor paints made from earth pigments are not as transparent as those you might be used to. All of them are more similar to gouache than not. The ones I've labeled 'gouache' are more opaque than the pigments alone. The only ones of my paints that are truly transparent are those from plant pigments, like the sassafras root bark in this collection.
Examples of Paintings Using This Paint
You can see the paintings I've made using these paints at www.madisonwoods.art if you'd like to get an idea of how they look.