Nursery
Ginseng Seedlings & Companion Plants for Habitat Restoration
The Wild Ozark™ Ginseng Nursery specializes in wild-simulated American ginseng and ethically propagated companion plants for ginseng habitat restoration or creation. We're the only (that I know of) certified American ginseng nursery in Arkansas.
The plants are available  at the following locations:
Tuesdays at the Huntsville (AR) Farmer's Market
Saturdays at the Downtown Rogers (AR) Farmer's Market
Pick-up at the Ginseng Nursery in Kingston, AR
Email me ([email protected]) for more information on any of these locations.
Want to see ginseng growing in a restored natural habitat? Click here  to read more about the Wild Ozark Nature Boutique Ginseng Habitat Garden.
Medicinal and Woodland Plants.
Potted plants are available only to local or on-site buyers. Bare root plants can be shipped from October through November. I'll be adding more to the list as I get the shop listings ready. Most of these are native to the Ozarks but a few are medicinals that I like to grow and use on the homestead.
We also carry some non-native varieties, many of which are introduced and naturalized during the early settlement of our area. I usually avoid those that have become invasive (like Japanese Honeysuckle, for example). And we have books and other information sources with lots of pictures of plants on our website free for the browsing (use the menu links above).
The Ginseng Nursery List
Available in pots (May through October), bare-root (October through November)
All items not always available, so check via email before making the trip if you're coming for anything specific. My email is [email protected]
American ginseng seedlings
Bloodroot, in pots
Goldenseal, in pots
Spikenard seedlings
Spicebush
PawPaw saplings
Beech saplings
Maple saplings
Doll's Eyes
Black Cohosh
Blue Cohosh
All-heal (Prunella vulgaris)
Wild Hydrangea
Grape/Rattlesnake fern
Maidenhair ferns
Jack-in-the-Pulpit
Echinacea
Beebalm
Devil's Walking Stick
Wild Strawberry
Wild Red Raspberry (not the native – they're also called wineberry and can be aggressive in some areas)
Heritage Red Raspberry
Interested in Establishing a Ginseng Habitat?
You might like our "Habitat in a Pot". It's a collection of some of the companions and a 3 yr or older ginseng plant. The older the ginseng, the more expensive the collection.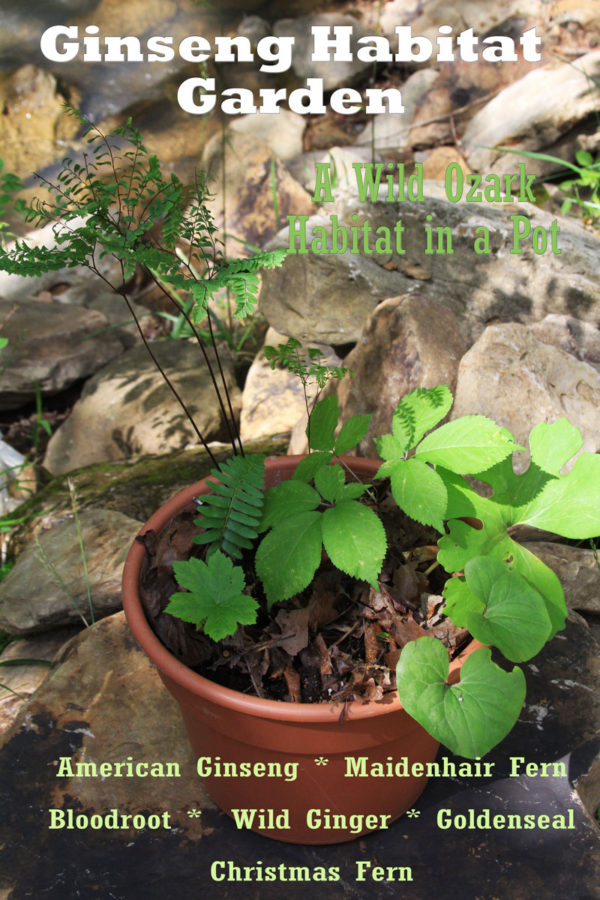 ---
Location
Beginning in May 2017 Wild Ozark Ginseng & Companions Habitat Nursery will have a physical retail outlet! Sign up for newsletters (links at top and in sidebar) to get announcements. It'll be quite a long drive out into beautiful countryside of Kingston, AR, but I think you'll enjoy the ride.
Open by appointment only. Email [email protected] to pick a date and time (no Tuesdays or Saturdays).
To stay current with what I'm bringing to market, follow at our FB page, or tweet to me:
My Sourcing Methods
All of the natives are ethically propagated from plants that exist here at Wild Ozark. I use root division, cuttings, and seeds. From time to time I rescue plants uprooted by the road grader from the side of the road that would otherwise die (the Dutchman's Breeches along one stretch of our county road meet this fate every spring).
For other plants that aren't available through the above methods, I purchase seeds.
We would never threaten the survival of any of our plants by over harvesting for the sake of selling plants. Because of this, our supplies will always be limited. If you want to make sure of what we will have on any given week, please email by the Sunday before. If you give assurances that you'll be there to pick up your plant, I'll hold your request so you won't make a trip out for nothing.
Showing all 5 results