This is the discussion page for 2017 ginseng prices for diggers and dealers, not for information on how much ginseng roots cost for a retail buyer.
Want to Buy Retail Wild American Ginseng for Yourself?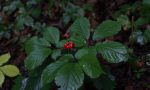 The discussion on this page is NOT a reflection on how much the retail roots cost. The prices being discussed here are at the digger level, not retail level. Click here for referrals to retail sellers I trust.
Average Prices to Diggers
Buying prices vary from year to year, but on average for the past few years here in the Ozarks they've been around $400-$500/lb (dry). Last year in Arkansas, however, prices were not good and most buyers quit buying early on. I don't know if the dry rates ever reached $400/lb.
In 2016 a major dealer went out of business and dumped his stockpile of dried roots on the market (at least this is what I heard). That's what caused the wholesale buying prices to be so low.
As far as I know, this did not affect retail prices at all. So I'd imagine for 2017, buying prices (from digger to dealer) will depend on whether or not this glut has been relieved.
2017 Ginseng Prices
So far for 2017 there is no news. If you hear something, please post a comment. Whenever I find anything out, I'll add it here.
Thank you for your feedback. Your input helps to make this page each year one of the most visited on this website.
You can read the comments and information from the 2016 prices page here.